26 Apr 2019

Cherished treasures: Bedroom now a peaceful oasis
by Donna Benton
Makenzie Evans photos
When you get married, you inherit things. You begin to intertwine your life and your possessions with those of your partner. Some things, you try to divest of as fast as you can, like when I told my husband that he could just leave that gold plaid sofa from his college apartment on the truck.  But some things that you inherit, end up being your own cherished treasures. 
I was a wandering gypsy girl from middle Louisiana who wasn't afraid of anything, but when my future-husband-to-be introduced me to his circle of friends, I must tell you that I was nervous. What would they think of me, and would I be in the club? That's when I met Traci Henderson.
Traci's reassuring smile and her warm brown eyes would make anyone feel right at home! From that moment on, Traci has been right there, a part of the story: weddings, babies, birthdays, vacations, backyard barbecues, New Year's Eves. 
She even moved right down the street and we are neighbors! We have raised our boys together, laughed, cried, laughed some more, traded chickens, made a whole village of gingerbread houses and survived a tornado in a storm shelter with three dogs and a mouse. 
What I'm saying is that we're tight.
We were sitting on the porch swing one day and Traci said, "I think I want to re-do my bedroom." She didn't have to say it twice. I left her in mid-swing and was back with paint swatches before she even noticed I was gone. She picked out the most soothing shade of blue because it made her feel like she was relaxing on the beach. What's better than a little mini-vacation every time you walk into your bedroom? 
With a wall color selected, we headed to the fabric store where we found the perfect print to go with the new color. We rushed right over to see our friend, Tracey Wilkinson of Tracey's Feathered Nest Custom Sewing Shop, and we got her started on some new handmade curtains. A friend of ours had an old armchair that had been sitting in her garage for a while and when she heard about our project, she offered it up. We stripped off the old brown tapestry fabric and painted the frame a creamy white. We used the same curtain fabric to give the old chair a custom look.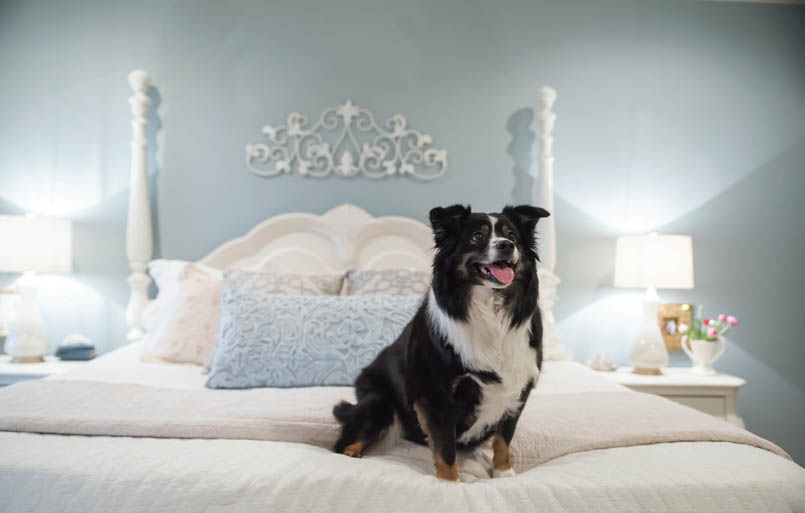 The room was really starting to come together, and we had a decision to make on the furniture. Traci is very nostalgic and I knew that this was the first furniture that she and her husband, Shannon, bought when they got married. It was still beautiful and had good bones, but the dark stained wood finish just wasn't going to work with the airy feel of the new room. Traci decided to give the bedroom suite a new paint finish. We even reimagined the old television cabinet and reconfigured it to store Traci's collection of heirloom quilts. There is nothing better than giving new life to furniture that has a story.
While I took the furniture to my workshop for its new finish, Traci went to work shopping for new bedding, pillows, lamps and a few accessories. After just a few days of mattress-on-the-floor time, the walls were painted and the furniture was ready for its big reveal. We moved everything back in, hung curtains and art, and fluffed the pillows with home show-style fanfare. In just a few days, and for only a few bucks, we had transformed Traci's bedroom into a peaceful oasis of soft blues and whites. This project will always be one of my favorites because I got to create something beautiful with a treasured friend.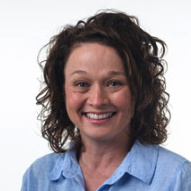 Latest posts by Donna Benton
(see all)