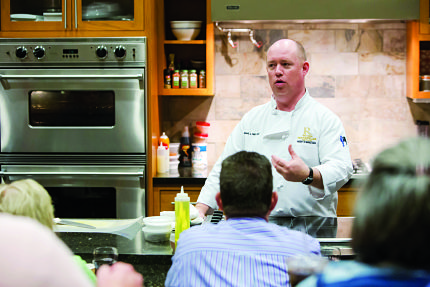 11 Aug 2014

Chef's Tasting Dinners added to WRI lineup

Posted at 10:25 AMh

in

News

The Winthrop Rockefeller Institute is offering a new, unique culinary experience: Chef's Tasting Dinners.

The pilot Chef's Tasting Dinner, held in July, featured a 21-course tasting dinner that toured the culinary regions of Italy. Based on the positive response received after the initial dinner, the institute is offering two more Chef's Tasting Dinners this year. The first, Taste the Caribbean, will be held Friday, Aug. 15. The second, Taste the Victorian Holidays, will be held Friday, Nov. 21.


"This is really a special experience," said Chef Robert Hall, culinary director at the institute. "Each meal is like being transported to a different time or place through food."


The Chef's Tasting Dinners are designed to be a couple's culinary experience. Included in the $235-per-person cost are overnight accommodations (one room with a king- or dual queen-size beds) and a continental breakfast the following morning.


"The idea came about based on the popularity of our Table for Two classes," Hall said. "The Chef's Tasting Dinners don't offer an instruction component, but the focus on providing a memorable dining experience for two is the same."


The Aug. 15 Chef's Tasting Dinner will bring to life the flavors of the Bahamas, Belize, Jamaica and Puerto Rico, to name a few. Participants will enjoy dishes like chimi burgers from the Dominican Republic, jerk chicken from Jamaica, pasteles (plantain and pork tamales) from Puerto Rico and poulet creole from Haiti.


"The distinctive flavors of the Caribbean are alive with local spices, fresh fruits and vegetables, chicken and the most succulent fresh fish on the planet," Hall said.


The Nov. 21 Chef's Tasting Dinner is inspired by late-19th century England as seen through the eyes of Charles Dickens. Expect roasted fowl and delectable puddings to feature prominently in the festive fare.


For more information and to register for a Chef's Tasting Dinner, visit rockefellerinstitute.org/educational-programs/culinary.