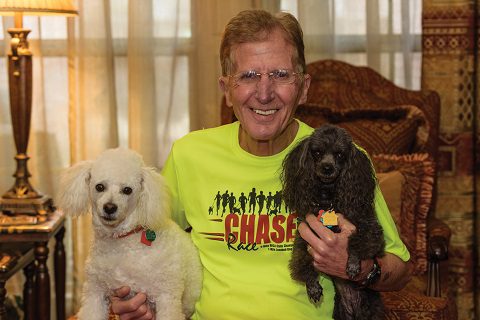 06 Mar 2018

'Chase Race and Paws' March 10 in Conway

The 13th annual Chase Race and Paws will be held at 8 a.m. Saturday, March 10.

"Volunteers are working hard to make this year's event the best one ever," said Don Potter, Chase Race founder and race director. "In addition to being the most unique race in the state of Arkansas, there will be a Pet Parade of Adoptable Dogs, and a free pet costume contest."


Even more importantly, the race continues to commemorate the short life of Chase Potter, who died at age 13. A tragedy has been turned into a commemorative fun event for runners, walkers, children, families and pets as it celebrates Chase's love of animals.


The event has raised $154,000 since its beginning.

"Thanks to our Conway friends and surrounding areas, our sponsorships are at a record high."

Proceeds from this year's event will be divided equally between HAVEN (Help for Abuse Victims in Emergency Need) and Friends of the Conway Animal Shelter. Chase Race and Paws promotes and raises funds for non-adopted pets and funding for a residential group home for adolescent females who have come into foster care through no fault of their own. Organizers believe that every dog deserves a life and every child deserves a home.


This year's event will start with an expanded start line and finish at Simon Park, located at 805 Front St. in Downtown Conway. The 2-mile state championship race awards a $100 cash prize to any male or female who breaks the present course records. A complimentary 2019 entry form will be awarded to anyone who breaks an age group record.


All finishers will receive a unique Chase Race medal. Each person who registers will receive a unisex souvenir race T-shirt.


The race will be timed using disposable chips this year and will be run on the same fast, out and back course, as last year.


Registration is open at chaserace.info/, online at RunSignUp or the Chase Race and Paws Facebook page. Attendees can avoid a $2.50 processing fee by obtaining an entry form available at The Sporty Runner, 1016 Van Ronkle St. in Conway; Conway Regional Health and Fitness Center, 700 Salem Road; Rock City Running, 10300 N. Rodney Parham Road in Little Rock; and at Go!Running, 1819 N. Grant St. in Little Rock.

On Saturday morning, race registration will be permitted until 7:45.Conway Mayor Bart Castleberry will start the 2-mile race at 8 a.m.

Chase Race and Paws had its beginning March 11, 2006, as an event to celebrate the brief life of Donald Lee Chase Potter, 1991-2005.

Chase's parents, Don and the late Cheryl Potter, searched for a way to perpetually continue the legacy of their 13-year-old son who loved animals and suffered from a traumatic brain injury. His parents (and Chase), all runners, focused on a running event that could include pets. The Chase Race continues to provide comfort this year.