05 Oct 2022

Charles, McElvain earn ASUN weekly honors

CONWAY — The University of Central Arkansas Bears picked up two of the four ASUN Conference Football player awards that were announced on Monday by the league office.


Sophomore linebacker Demetrias Charles was named the ASUN Defensive Player of the Week, while junior quarterback Will McElvain earned the ASUN Offensive Player of the Week honor.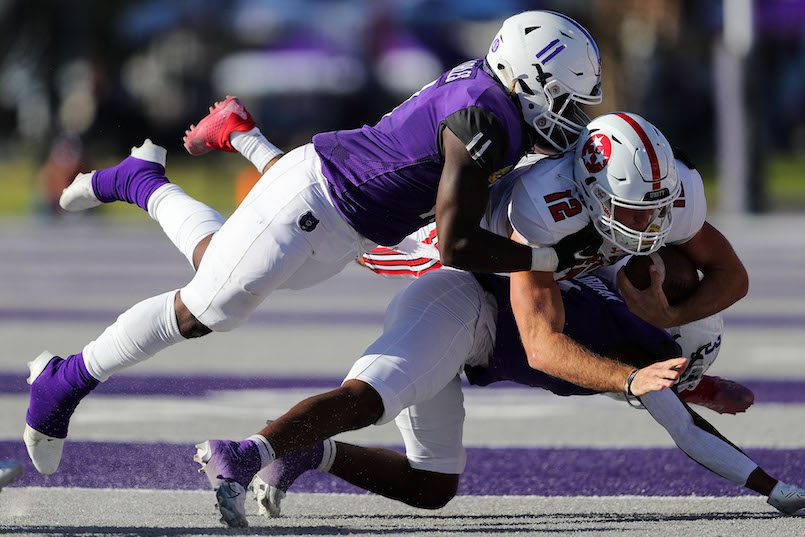 Charles, a 6-foot, 210-pounder from Texarkana (Ark.) High School, tied for the team honors with 12 tackles, including two tackles for loss (-11 yards) and a sack (-9 yards) and also forced a fumble just prior to UCA's final touchdown in a 49-20 victory over Top 25 Austin Peay at First Security Field at Estes Stadium.

McElvain, a 5-11, 185-pound transfer from Northern Iowa, completed 20 of 31 passes for a career-high 261 yards and four touchdowns. McElvain completed scoring passes to four different receivers, including Myles Kitt-Denton (44 yards), Trustin Oliver (37 yards), Myles Butler (32 yards) and Christian Richmond (14 yards).

McElvain led a UCA offense that exploded for 42 points in the second half and scored its season high of 49 points on the day.

UCA continues its homestand at 4 p.m. Saturday, hosting the Lindenwood Lions out of the Ohio Valley Conference on "The Stripes."