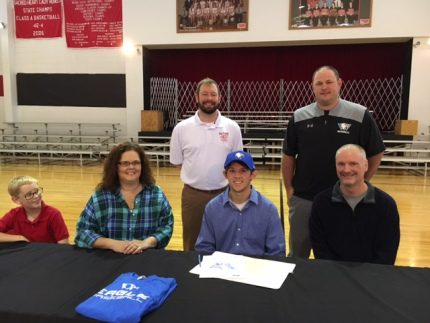 18 Jan 2017

Chapman signs with Williams Baptist

Sacred Heart Senior Cade Chapman officially signed on Jan. 11 to play baseball for Williams Baptist College, an NAIA school in Walnut Ridge (Lawrence County).


Cade is a four-year starter for the Sacred Heart Baseball team and has been the ace of the pitching staff for two years.


"I'm so proud of Cade for this honor," said Coach Aaron Duvall. "He is a very hard-working young man and is a fierce competitor. Cade signing with Williams Baptist is proof that hard work does pay off.


"I know that Coach (Stephen) Abanathy is getting a quality student-athlete in Cade and that Cade will represent Sacred Heart very well at the next level."


Cade is a son of Jeff and Cassie (Stobaugh) Chapman. His little brother Seth was also proudly in attendance for the event.