02 Sep

Chainsaw company carving a niche in the 501

By Jeremy Higginbotham

"There is a level of artistic ability in everyone; however, for some it supersedes everything else," said Lee Halbrook, co-owner of Custom Log Carvings. His love of art that began as a young child has led him to writing, painting and, today, being a master chainsaw artist.

In fact, a shared love of art has brought together an entire team. While woodwork is at the center of everything Custom Log Carvings does, their talents are as varied as the pieces they have created.

"Alex Ward called me last year and said, 'You don't do what I do and I don't do what you do — let's get together and make something out of this,' And we have,'" said Halbrook. Alex is co-owner of the company. Fascinated with numbers, letters and symmetry, Alex has honed his craft to become a master at carving names into logs.
  "Alex will say he is not artistic, it is mathematic skills he utilizes," Halbrook said. However, anyone that has viewed Ward's final products knows they are works of art.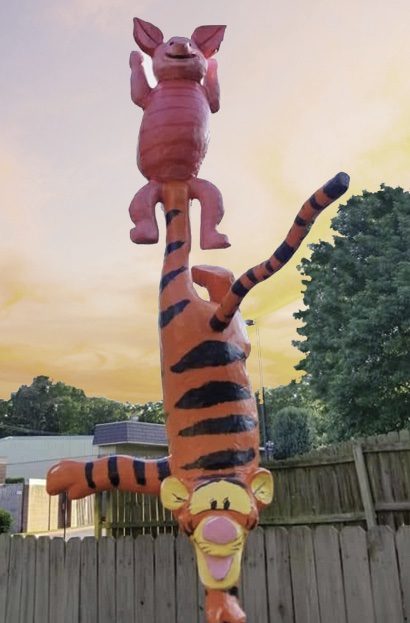 But the organization is not only home to masters of the trade. While some members of the team are experts, the company also takes on apprentices. Halbrook's youngest son is an apprentice. "He always has been the art kid," Hallbrook said. "Harley — he is a carver." Halbrook said Custom Log Carvings has welcomed other artists and believes they all have one thing in common — a mindset of giving of themselves to make the best possible pieces. "Everyone here creates beautiful work, from Geneva who walked in with no experience and said she would love to do this, to Don Nichols who actually lost an eye, but taught himself to carve."
Halbrook says that his customer's reactions are what mean the most. "Any of our artists will tell you the same thing," Halbrook said. "The wood carvings you create are a piece of you, a part of your makeup. So, when you create it and someone loves it, that's an amazing feeling."
One project Halbrook is particularly proud of is one he completed before starting the company, yet he considers it part of the company's DNA. It is a totem pole for the Easter Seals School in Little Rock. Halbrook was asked to create something for the playground. After hearing that the kids playing were mostly 4 and 5 years old, he came up with the idea of a Winnie the Pooh Totem Pole. The administrator told him she had never thought of something like that, but said "I love it already!"
"We did it," Halbrook said. "The kids loved it! It's the most emotional thing I have ever done because the kids watched me create it from the windows. One child wrote down thank-you [notes] from all the kids there. I still have those in my home." The company was hired to create three more totem poles for the school system.
 "I enjoy making things look good and making things that people enjoy," he said. "I want to do that for the 501 community. If you go to a city with no art in it, you don't remember it. But when you visit a city with artwork — like the sculptures in Downtown Conway — everyone just loves that. That's what we want to do and you can do that with wood. If you take care of the piece — they will be there for your great-great grandkids."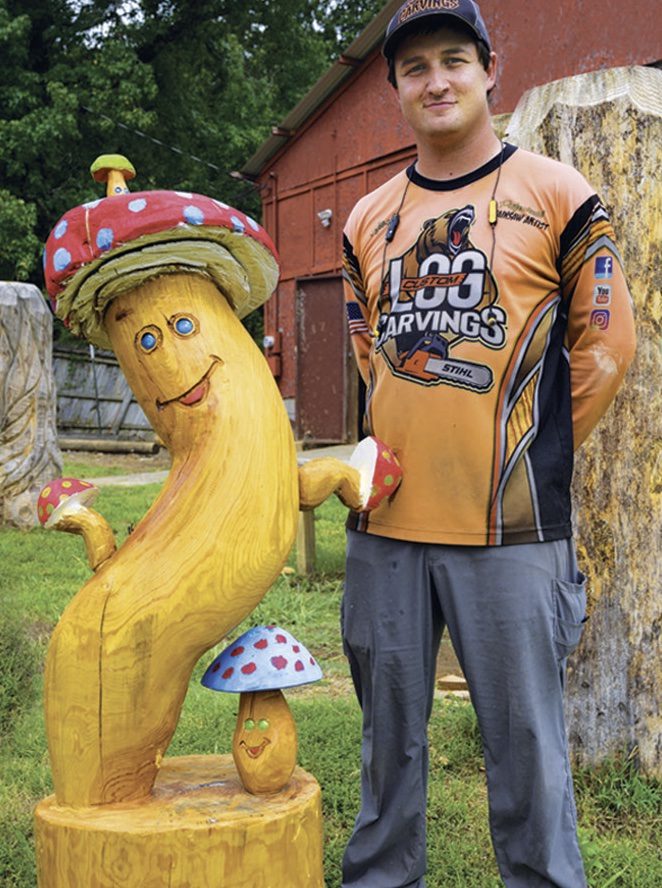 Halbrook welcomes anyone to learn more about the art of chainsaw wood carving by contacting the company or visiting their website. He said it is important to remember the work can be dangerous and not taken lightly. "Unless you are very familiar with chainsaws grinders, sanders, drills, and you know safety protocols, I don't recommend going out and grabbing a chainsaw and seeing if you can do this."
However, Halbrook explains that anyone with an interest can work with the company and learn. This included a mom and her 14-year-old son who came to the studio with no experience, and in five hours had created a piece of art.
"The options with woodworking are limitless," Halbrook said. "Every time someone comes to me, hesitates and asks 'Can you create this?' my answer is always 'yes we can do it.'"