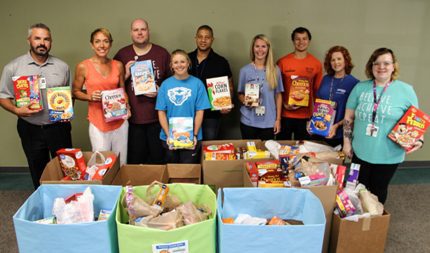 29 Jun 2017

Cereal drive focuses on Conway schoolchildren

Posted at 12:10 PMh

in

News

What's your favorite box of cereal?


Conway Regional Health System has donated more than 300 boxes of cereal to Conway schools for the annual School Breakfast Box program.


"Our Breakfast Boxes ensure that our students in need have food during the Christmas holidays and spring break, while they aren't in school," said Heather Kendrick, communication director for Conway Public Schools. "This cereal will make such a huge difference in these efforts."


Over the past nine years, the health system has donated more than 9,500 boxes of cereal to various community organizations, according to Rance Bryant, director of the Conway Regional Health and Fitness Center. Bryant organized this year's drive, which included a donation of more than 80 boxes by the Conway Regional Medical Center's critical care units. The cereal drive was held throughout the majority of the month of June.


"Once again the staff has been very generous in giving to the cereal drive," said Bryant. "We know it will give the kids a boost over Christmas time."


"Conway Regional is such a strong community partner," said Kendrick, "This is just one more way that they go above and beyond to help our students and our schools."