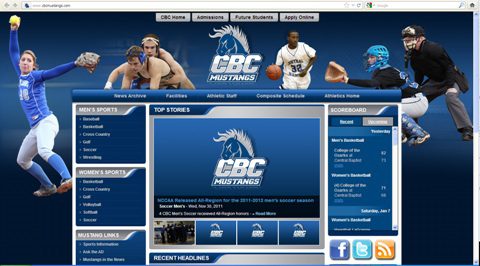 11 Jan 2012

Central Baptist College launches new sports website

Central Baptist College Athletics recently launched its own new website – cbcmustangs.com.


The site provides students, parents and fans easy access to up-to-date information about sports at CBC – from player rosters and game schedules to scores and stats.

The site also features a "store" where CBC Mustang apparel can be purchased.


Prospective student athletes can also request information via a "Recruit Me" tab.


CBC offers six men's sports – baseball, basketball, cross country, golf, soccer and wrestling. The six women's sports include basketball, cross country, golf, volleyball, softball and soccer.


"The new web site will serve as a great tool for keeping up with every athletes individual stats, in keeping us linked to our conference and national sites, and in getting our information to the press with just a click," said CBC sports information director Ken Prophete. "Another great feature is that the site will provide a career database on every athlete that will always be available."