02 May 2023

Celebrating Athletic Excellence: White County's Butch Gardner

By Dr. Robert Reising

His competence and composure are readily discernible. Whether in person or on the telephone, his speech reveals a man who knows himself and has few arguments with the 68 years that have passed since his Mississippi birth. A transplant to Searcy at age 5, Elvester "Butch" Gardner has enriched the Natural State not only with his All-American basketball talents but also with his admirable professional and people skills. Never has he been anything but an asset to the state he has long called home.

One of twelve children and the oldest of four boys, Butch learned early the importance of team play. On the playground as well as at the supper table, sharing became a vehicle for nurturing camaraderie and success. Basketball—in which team play is essential—soon became his favorite activity, although racing and both high and long jumping were attractive seconds.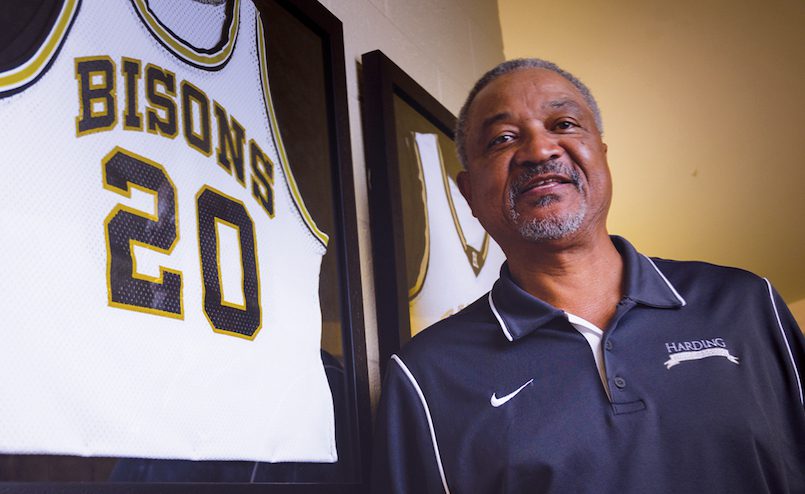 Adolescence moved Butch into organized school sports that prepared him well for three years of multi-sport high school competition. Basketball increasingly became his passion, with track and field events serving as valuable vehicles for improving his speed and jumping on the court.
Launched years earlier was his parents' unwavering support for his participation in school sports. The two were tireless workers, Butch recently explained, his father eventually the owner of a small business, his mother always "pretty fantastic" as a homemaker. Both "were trying to make a living," he proudly added; yet they "came to all of my games."
What they saw made all of their labors more than worthwhile. Consistently capable in the classroom, Butch treated his parents to ongoing improvement athletically. His part-time play as a sophomore won him a varsity letter and provided perfect preparation for stardom in his junior and senior years.
As a junior, he averaged 18 points and 13 rebounds per game. As a senior, while earning selection as an All-American, he tied Searcy's single-game scoring high with 43 points and averaged 24 points and 14.1 rebounds per game. Ultimately he sent 1098 career points through the nets, with all but 61 tallied in his last two seasons. Clearly, he was showing why, three years earlier, his Searcy coach, Birdie Rogers, had announced he "wouldn't trade Butch for any other player in the state … . He's a natural."
College and university recruiters agreed: Butch was a basketball marvel whose best years lay ahead. Offers were numerous and attractive, and Butch weighed them carefully, finally opting for Ouachita Baptist University, with legendary Bill Vining heading their basketball program.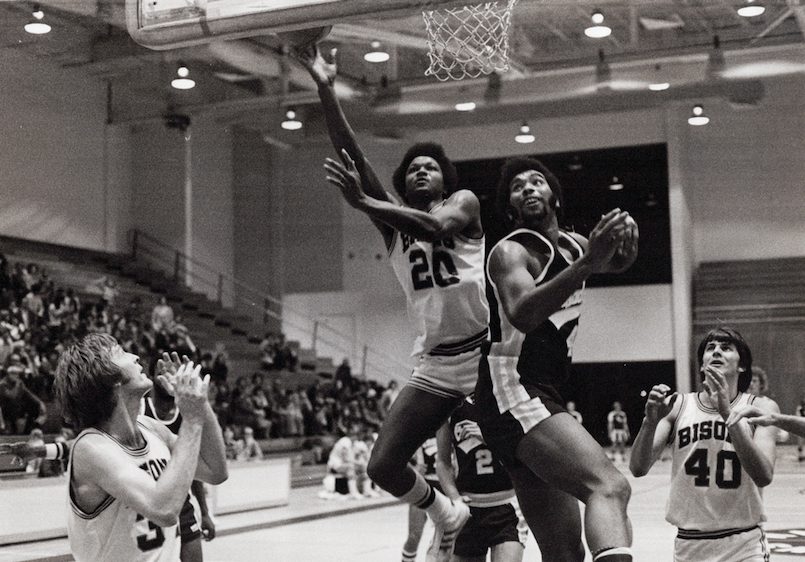 On the 1973 evening before his departure for Arkadelphia, however, came a visitor to Butch's home who was to turn his basketball fortunes, and his career, in a different direction. Butch greeted not Coach Vining but Coach Jess Bucy, in his fifth season of strengthening Harding's basketball program. Bucy quickly convinced Butch that his nationally celebrated skills deserved to be paraded on home soil and before the fabled, raucous basketball crowd that had no equal elsewhere (his parents would enjoy the "The Rhodes Rowdies" too, he emphasized).
Thus began a quartet of seasons seldom replicated on America's campuses. Butch took the basketball world by storm, four times an All-Arkansas Intercollegiate Conference and an All-District selection, three times adding All-American laurels. In 2023, forty-six years after last donning his Bison uniform, he remains Harding University's chief basketball record holder, first in six career all-time rankings and in our single-season rankings.
Most admirable in the minds of Harding basketball aficionados are Butch's top finishes in points scored (2255) and scoring average (21.1). Butch, however, admits he takes "more pride in his rebounds than points scored." Reporter Corey Shunne explains that the springy,6'4" small forward calls rebound statistics "blue-collar" because "You got to get in there and bang around with people. It's more about desire and want-to than skill."
But shortly after his final Bison season, his always trusty legs failed him. At the training camp to which the Atlanta Hawks invited free agents and draft choices, oppressive heat hobbled him; heat cramps ended his professional opportunities.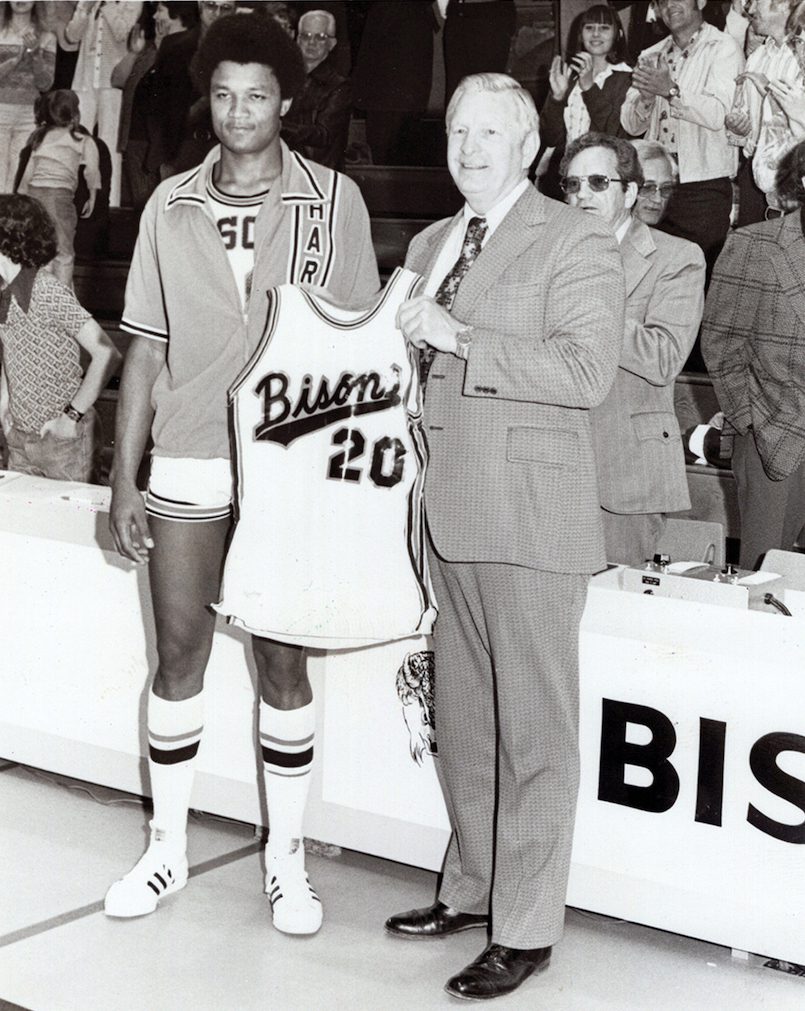 In 1978, upon completing his undergraduate degree in education, with a minor in business, Butch plunged into Harding's graduate program in education. A year later, armed with his master's degree, he became Coach Bucy's assistant coach, a post he enjoyed for five years.
Yet the lure of a head coaching opportunity proved irresistible, and Butch misjudged, later conceding "It wasn't a good fit." Three seasons of overseeing the Basketball Program at the University of Arkansas at Pine Bluff preceded his return to his alma mater for 34 years of successful administration.
Those years found him in a variety of leadership posts, each with greater responsibilities than the last. By 1991 he had advanced to Assistant Vice President of Student Affairs and Dean of Students, and by 1999 to Director of Minority Student Services and the First-Year Experience at Harding, while also launching his part-time doctoral study. After earning his Ed.D. at the University of Arkansas at Little Rock in 2007, he moved to Director of the university's Career Center, holding that position until his 2021 retirement.
Harding's President Mike Williams, a friend and colleague of Butch's for three decades, labels him "the most heralded basketball player" in the history of the institution as well as "a remarkable, humble and beloved man who works for the good of others." Undoubtedly, White County and the 501 would agree without reservation.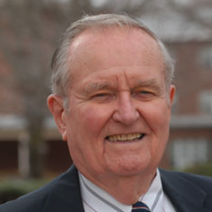 Latest posts by Bob Reising
(see all)