29 Apr 2021

Celebrating Athletic Excellence: White County – Johnny Adams

By Dr. Robert Reising

Nobody is certain. He was probably the first, but perhaps he was simply one of the eight men who, in sportswriter John Christgau's words, "shook the world of basketball" by introducing the jump shot two generations ago. Regardless of which, Johnny Adams was undeniably among the hardwood game's courageous pioneers who dared to take the earthbound sport into the air, thereby aiding its transition into an exciting year-round national and global phenomenon enjoyed by millions.

"Jumping Johnny" came into the world unheralded on April 9, 1917, the second of six children parented by El Paso farm couple Howard and Ethel Adams. Family activities filled his first years, farm chores, school attendance, and homework immediately following. Church attendance remained a constant. Emerging, however, were participation and prowess in football, basketball, and track.
By grade 10, Johnny had gained the respect of area coaches. During the following summer, one of those coaches, "Bro" Erwin from Beebe High's Badgers, traveled to the Adams home on one of his famous "friendly visits" that were recruiting trips in disguise. Vivid in the veteran coach's mind was tiny El Paso's upset basketball win over sizable Beebe during the previous winter. By afternoon's end, Johnny and his younger brother, O'Neal, had agreed to complete their high school years as Badgers.
While living with a kind Beebe family, both launched three-sport success at the modern school claiming an indoor gym with low rafters. By December of 1935, Johnny had tried his hand at a two-handed court shot that lifted him off his feet while releasing the ball with a flat trajectory that avoided all beams. Coach "Bro" did not discourage him, nor did Beebe basketball alumnus Gaylon Smith, a talented foe of years past, who was simultaneously experimenting with a one-handed jump shot.
Heartened, Johnny enjoyed two successful seasons in his new setting. In his final year, he and his brother starred as Beebe found itself among Arkansas's top eight teams, qualifying for the state basketball tournament in Pine Bluff. But pneumonia intervened, and the weakened Adams brothers hardly possessed energy enough to dress for the opening contest against Little Rock. The favored Badgers were upset, and Beebe lost its chance to prove it was the state's best.
Firmly established by tournament time, however, was Johnny's scoring ability, and he encountered no difficulty in taking it into higher education. At the University of Arkansas, the 6-foot 3-inch scoring machine with the alliterative nickname and innovative shot became a media delight. Between 1938 and 1941, his play improved each year, and double-digit scoring soon became his norm. On Dec. 30, 1939, he became the first Razorback to score more than 30 points in a contest by claiming 31 against Central Missouri University.
Twice he was named to the First Team of the All-Southwest Conference, and in 1941, his final season, he enjoyed unprecedented success not merely by bagging a 24-year program high of 36 points against Texas Christian University but also by claiming Consensus All American honors, only the fifth Razorback to be named an All-American. Basketball pundits from Connecticut to California agreed he was the nation's finest intercollegiate player.
Capping his 1941 distinctions was a stellar performance in the NCAA Final Four Tournament in Kansas City. He led all tournament scorers with 48 points in two games, and in the Razorbacks' opening contest, he tallied 26, half of his team's total in their 52 to 40 victory over the University of Wyoming. Their tournament performance took Arkansas to a sparkling 50-win, 18-loss record during the jump shooter's intercollegiate career.
Upon graduation, "Jumpin' Johnny" —the spelling sports writers preferred—opted for a basketball-playing position with the Phillips Petroleum 66ers in Bartlesville, Oklahoma. After one season in the Amateur Athletic Union, he enlisted in the U.S. Navy and joined "The Greatest Generation" in the nation's World War II struggles. Serving as a communications officer in both the Atlantic and the Pacific (and for a time on the USS Arkansas), he returned to Phillips Petroleum at war's end.
His basketball years behind him, he enjoyed success with the oil giant until ill health forced his retirement and ultimately his death in June of 1979. Three months before his passing, the modest, grateful El Paso native gained induction into the Arkansas Sports Hall of Fame. In 2002, the University of Arkansas Sports Hall of Honor welcomed the basketball innovator whom White County and the 501 will forever respect.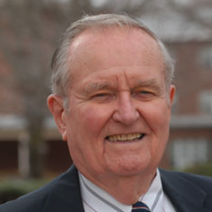 Latest posts by Bob Reising
(see all)