28 Feb 2022

Celebrating Athletic Excellence: Saline County's Bobby Nix

By Dr. Robert Reising

He lived just 59 years, yet his life seemed much longer, so numerous were his friends, fans, and achievements. In death, as in life , he remains almost iconic — gifted and genuine, charismatic and cordial. Bobby Nix burst upon the nation's athletic scene as a promising middle-schooler, and always thereafter, on or away from the playing field, he brought respect to the city, the county, and the state he thought incomparable.

Born in Hope on Sept. 13, 1944, Robert Albert (Bobby) Nix moved to his beloved Benton six years later. Living a block from C.W. Lewis Stadium, he was on its sidelines seemingly from the moment he could walk, kicking and punting a football, skills that served him admirably throughout his playing days.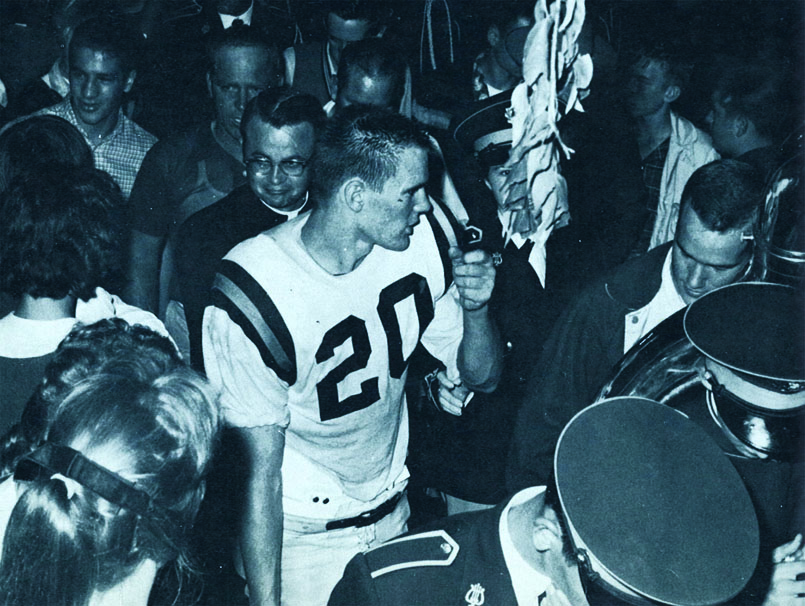 His loving parents delighted in the hours he spent in the park. They were his first fans, his mother a dutiful housewife, his ex-athlete father, also his first coach. The latter worked long hours, first as a store manager and later as a tax assessor, but like his wife, always found time to support Bobby and his younger brother in their sports endeavors.
For Bobby, football never stood alone. Baseball was an early favorite, occupying his summers while basketball and track monopolized his out-of-class hours after every gridiron season. While excelling in all four, Bobby quickly demonstrated that a special luster characterized his performances in the fall sport.
Numbers did not lie. He capped his junior high play by registering 119 points and by earning his first athletic letter in the eighth grade. "It was very obvious when Bob was in the seventh grade that he would turn out to be a great football player and a great athlete," proclaimed Tom Hardin, Bobby's coach in both junior and senior high.
Soon thereafter, his punting garnered superlatives. Rainbow-like lofts carrying 75 yards were not unknown. Many a punt traveled so far and/or so high that it allowed opponents little or no return yardage. Foes respected Bobby as a formidable runner no less as a fearsome punter.
In high school, his superior play continued. He proved to be all that Coach Hardin had predicted— a three-sport stalwart and a sensation, one of the nation's best, on the gridiron. In his sophomore year, he led the Panther football team in scoring with 72 points, the Arkansas Gazette labeling him "the outstanding sophomore player in the state." As a junior, he was even more impressive, scoring 123 points on touchdowns and extra points, collecting 1,026 yards on offense while averaging 7.4 yards per carry and 40.6 yards on his numerous punts. Bobby's collection of statistics earned him a place on both the All-3A and the All-State Teams.
It also added to the number of colleges and universities following his play. He disappointed none of them. By the time he accepted his diploma the following spring, he had scored 41 touchdowns and kicked 69 extra points for a total of 315 points. On 588 carries, the workhouse back had gained 2,671 yards.
Accolades galore accompanied Bobby to graduation. He earned All-State honors a second time,  added an All-Southern plaque, and emerged with the nation's most coveted high school football distinction: a berth on the All-American High School Team, the first awarded to a Benton player. Congratulatory letters from key area, regional, and state officials filled his mailbox, and dozens from fans far and wide flooded it. He and his gridiron excellence were celebrated across the continent, and countless football recruiters toiled hard to gain his commitment.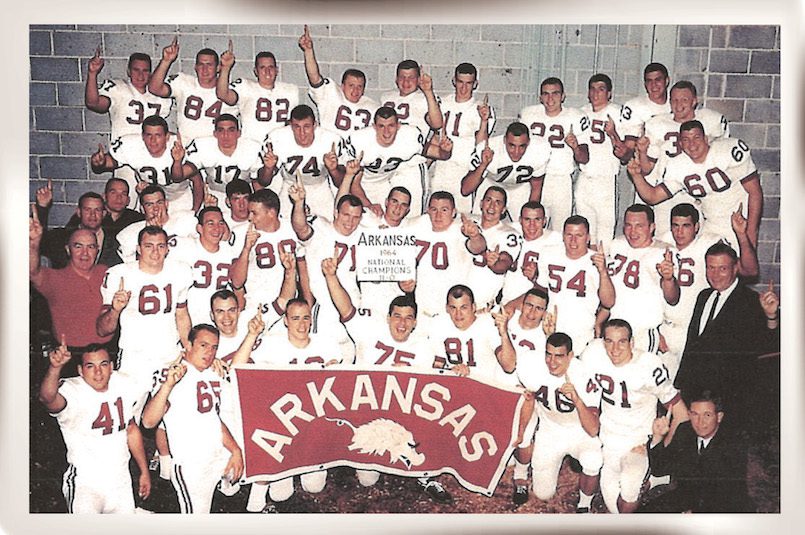 Nothing could shake his resolve, however. Thus, he joined the parade of gridiron talent that legendary Frank Broyles attracted to Fayetteville and Arkansas' "Flagship University." History was about to be made, with Bobby playing a crucial, unique, and unselfish role. After a year on Arkansas' freshman team, he advanced to three letter-winning varsity seasons in which he specialized in punting and blocking. He excelled in both roles. Twice he was the Southwest Conference's leading punter. The Associated Press declared he was a "devastating" blocker, "making the Razorback offense go." Coach Broyles publicly conceded that Bobby was the one player "we couldn't do without."
During Bobby's varsity years, the team claimed 26 victories, two Southwest Conference Championships, two bowl appearances, and a national championship in 1964, the school's finest season ever. Five of the 10 Razorback victories during that memorable campaign were shutouts, including the final five. During the first five wins, only two foes tallied more than a single touchdown.
Unfortunately, The Associated Press and the United Press International polled before Jan. 1 and prematurely selected Alabama as the nation's best, only to watch the Crimson Tide fall to Texas (a team the Hogs had whipped on Oct. 17 in Austin) in the Orange Bowl. On New Year's Day in the Cotton Bowl, the Razorbacks followed with a triumph over Nebraska, to emerge as the lone unbeaten and untied team in the country. Coach Broyles and his charges exploded into Hog Heaven, as one writer noted. They brought sheer delight to their countless followers nationally and unprecedented, undiluted ecstasy to virtually every resident of The Natural State. The Razorbacks reigned as intercollegiate football's royalty, a distinctive contingent that won 2010 induction into the Arkansas Sports Hall of Fame.
In his final season, Bobby captained the team, continued his eye-catching blocking and upped his punting average to more than 40 yards per kick. Against Southern Methodist, he set a school record for punting in a single game, 506 yards on 11 punts. The squad moved through another unblemished 10-win season, but a heart-breaking Cotton Bowl loss to LSU ended not only their chances for a second consecutive national title but also their streak of 22 consecutive victories.
Disappointment had hardly left Bobby when he received an invitation to continue his stellar play in the Canadian Football League. He declined. His dislike of flying and, more important, his desire for life in Arkansas with his wife, Barbara, and his infant daughter triggered his gracious rejection. After graduation, he secured employment first as a high school coach in Fayetteville and five years later as an assistant coach at his alma mater. He yearned for a return to Benton, however, and two years later secured a post at the Benton State Bank. Finally, a position in Benton automobile sales lured him, and in it he excelled for years, his ever-present smile infectious, his affable, accommodating personality ingratiating.
On Oct. 20, 2003, a massive heart attack unexpectedly claimed the life of the man Broyles eulogized as "a great player" and "a model citizen," one certain always to remain a source of pride to Benton, Saline County, and the 501.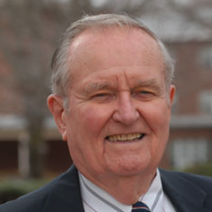 Latest posts by Bob Reising
(see all)