06 Mar 2021

Celebrating Athletic Excellence: Saline County – Leon 'Muscles' Campbell

By Dr. Robert Reising

Many of his fans probably never knew his first name. To them, his nickname sufficed, evoking exciting images of his performances as the bruising, yardage-devouring fullback who powered his way to membership on the University of Arkansas' "Football Dream Team." Nor did that nickname disappear with his retirement from professional football. It pursued him for the entirety of his 75 years, and today appears on the headstone marking his grave. Visitors to that site need not fear they have erred: Leon Campbell is a common name.

Yet, there was and will always be but one Leon "Muscles" Campbell.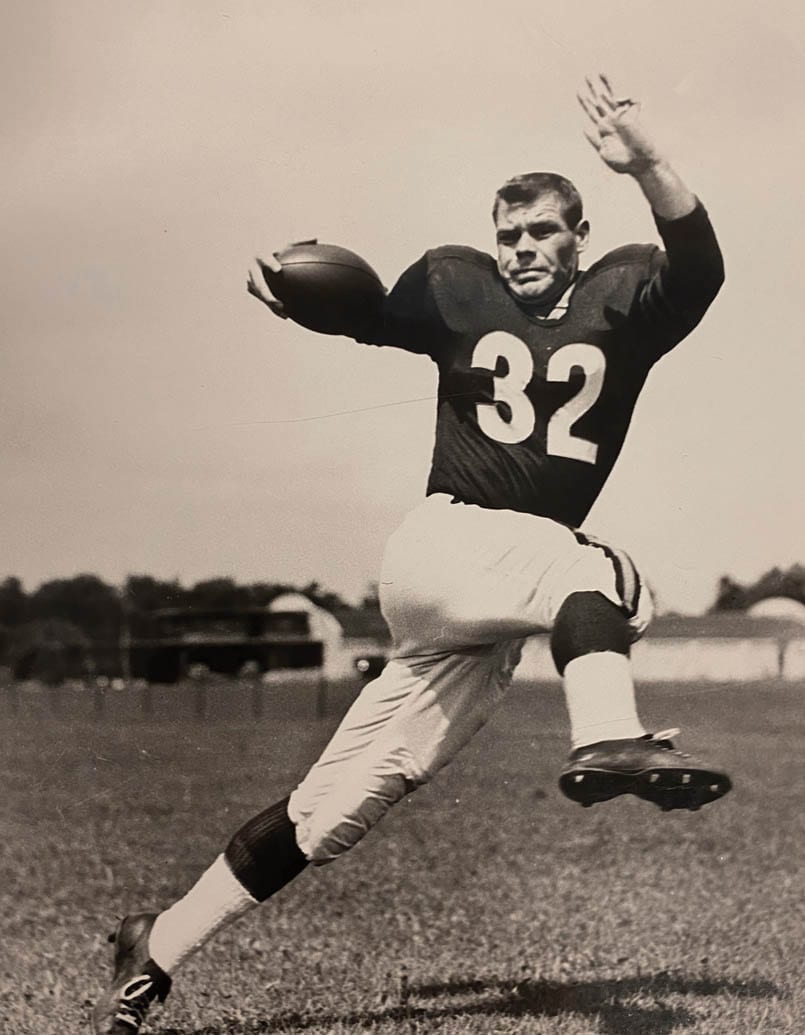 At his birth in Bauxite on July 1, 1927, there was no hint of exceptionality. One of six children welcomed by Jack and Lois Campbell — the former a 30–year employee of Alcoa as a carpenter and supervisor, the latter a housewife — young Leon attended the municipality's public schools.
In junior high school, he first began to show signs of unusual speed and agility and, soon thereafter, uncommon strength. That combination of assets brought him numerous honors in the three sports he played in high school: As a forward, he earned a place on the all–district basketball quintet. As "Bauxite's one–man track team," he led the Miners to two state track and field championships. As Bauxite's numerous football victories were dubbed "Campbell's Feats," writers and cartoonists took to employing the nickname bestowed upon him by schoolmates and fans: "Muscles," the mortal and the moniker, became a media marvel.
In football, he twice qualified for the all–state team; in 1945, the second time, he topped all scorers with 154 points. His mailbox was peppered by scholarship offers from the nation's intercollegiate football powers, but Bauxite native George Cole, a coach at the University of Arkansas, convinced him to remain in his home state to embellish his gridiron stardom. There he met the legendary Clyde Scott, who would later orchestrate the first campus showing of Muscles's best–known feat of strength: railroad–spike bending. Together, Campbell and Scott would provide the Razorbacks with their finest "Mr. Inside – Mr. Outside" backfield combination, eventually earning the label of "The Campbell–Scott Express" in the press. One excelled at blasting his way through foes, the other at speeding beyond their reach.
The dynamic duo were key in bringing success to Arkansas football under Coach John Barnhill, whose three predecessors had failed to claim even a single winning campaign. Barnhill's four–year run of 22 wins, 17 losses and two ties included a pair of post–season bowl appearances, with Scott starring in the first and Mr. Muscles, the media–rechristened fullback, doing no less in the second.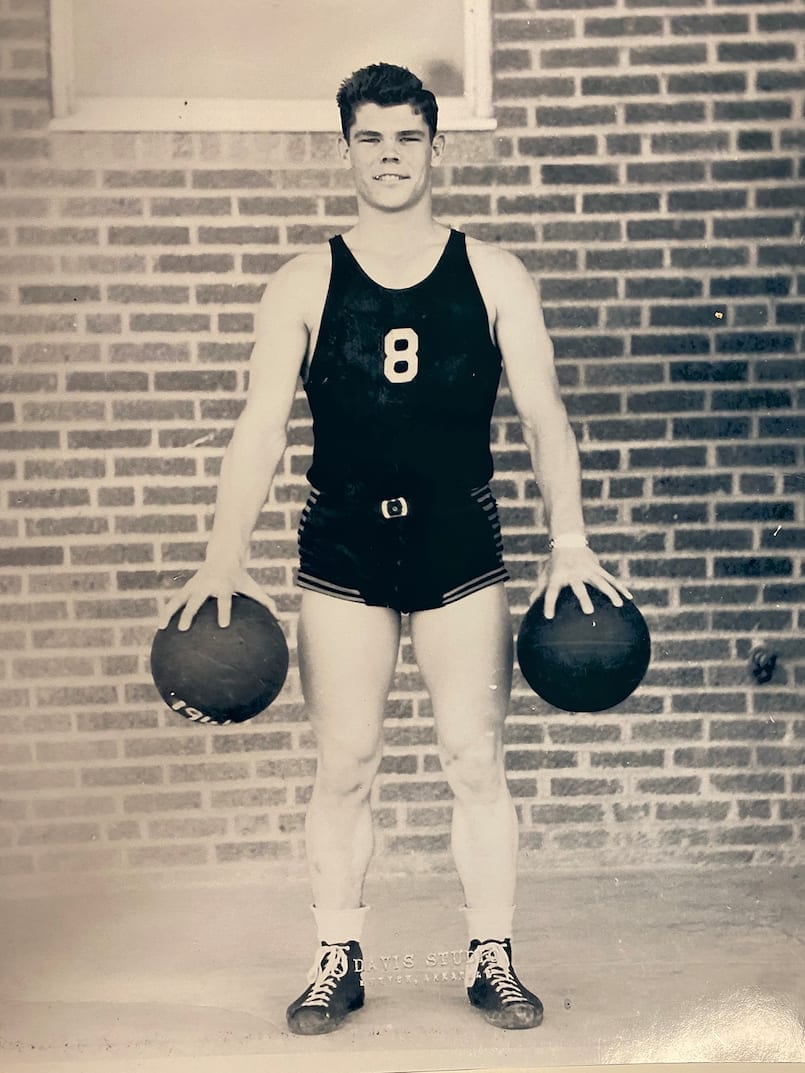 Before graduating in 1950, the battering back had four years of impressive varsity performances. He gained 1,335 yards on 295 carries for a 4.5–yard average, three numbers that certainly would have been higher had a series of knee and ankle injuries not hindered him. During senior year, his 236 rushing yards against North Texas State set the university's record for a single game high. That record, combined with his daredevil style and uncanny ability to rebound from physical difficulties, won the 200–pounder a second–round selection by the Baltimore Colts in the National Football League's 1950 draft.
But knee injuries again intruded. They dogged him through three teams and five years of play, limiting him to 379 yards on 102 carries and 156 yards on 20 pass receptions. Finally, on the eve of the 1956 season, he rejected a salary increase and retired from "the pro game" at age 28.
Thirty–three years of employment with the Reynolds Metals Company in Bauxite followed. Yet, an unusual occurrence around the time of the transition surprised no one who had seen Muscles star in semi–pro baseball as a teenager: In front of three professional baseball scouts, he hammered half a dozen 400–foot blasts out of a local ballpark; he refused to discuss a contract. He was, however, lured out of "retirement" for several annual company gridiron brawls between teams from his Bauxite plant and the nearby Alcoa plant.
Golf, however, soon became his favorite free–time sport. His drives were herculean, as much discussed as were visitors to Reynolds Metal Company seeking to see him bend a railroad spike, to test him in arm wrestling or to prove to themselves that Muscles was more man than myth.
His death after undergoing yet another supposedly routine knee operation occurred on September 2, 2002. Saline County and the 501 will forever remain proud of their inimitable native son.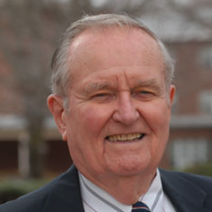 Latest posts by Bob Reising
(see all)