30 Nov

Celebrating Athletic Excellence: Lonoke County's Mike Malham

By Dr. Robert Reising

He has been an asset for more than four decades, and Cabot will be forever indebted. Not only did he lead the high school football program to unprecedented success, but his integrity and work ethic on and away from the gridiron proved heartening to an expanding community. Today, three years into retirement, Mike Malham continues to enjoy and enrich the city that reveres him.

Born in Little Rock on March 2, 1953, Michael James Malham was the only son of Michel Joseph Malham and Betty Ruth Ateley Malham, both educators. His father was also a coach en route to a 1999 induction into the Arkansas Sports Hall of Fame (ASHOF). He made sure Mike's earliest classroom away from the city's public schools was "always outside … hanging around the football, basketball, track, and baseball" facilities. Sports, especially football, accompanied his superior grades into adolescence. When he entered McClellan High, his athletic competence rivalled his academic excellence, and by graduation in 1971, he owned a grade-point average over 3.5 and honors as an All-Conference and All-State gridiron performer.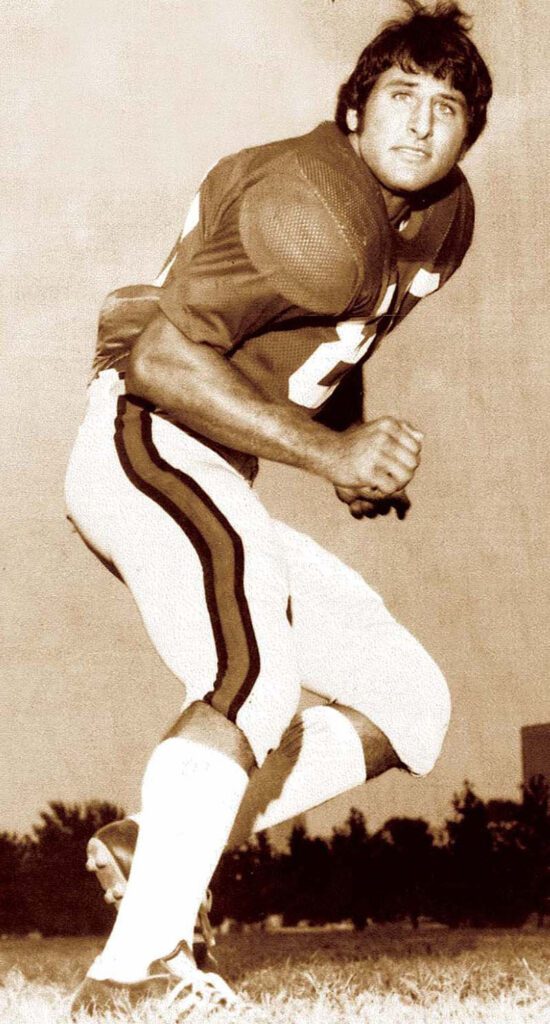 An appointment to the U.S. Naval Academy awaited. But shortly before he was to don Annapolis dress, his father accepted a football coaching position at Arkansas State University (ASU), and Mike immediately opted for a scholarship in Jonesboro. He had played for his parent in high school, and he preferred to do nothing less in college.
Ineligible for varsity play in 1971, he starred for the Indians (now the Red Wolves) during the following four seasons. At McClellan, he had moved among three positions, but at ASU, after a season at tight end, his stellar play as a linebacker consistently won him recognition. He totaled 370 tackles, fourth highest in school history, with 126 coming in 1975, when the Indians claimed an unbeaten 13-win season, as well as a Southland Conference Championship and 21st place in the final Associated Press poll among major universities. For the second consecutive season, he was a first-team selection to the Academic All-American Team and to the All-Time ASU Team (1909-1975). Lying ahead was election to the All-Southland Conference Decade Team of the 1970s and, in 2001, to the ASU Athletic Hall of Honor and the institution's All-Centennial Team.
Despite his lustrous ASU credentials, Mike was low on 1976 National Football League (NFL) draft lists. At 6 feet 2 inches tall and 205 pounds, he was undersized for professional football's grueling linebacker position and was forced to wait until the 17th round for the Chicago Bears to call his name. The Injured Reserve List was his fate during his first season, a shattered arm concluded his second, and two come-back attempts proved futile in 1978. The only serious injury Mike ever suffered ended his career.
Disappointment in the pro game, however, did not force him out of football. Three years as an assistant football coach and mathematics teacher at Jacksonville High School provided enriching preparation for his remarkable 38-year stay at Cabot High. He started with a bang, a 7 and 4 mark at age 28 in his first season as a head coach. Immediately thereafter came more than a third of a century of triumphs and championships. Topping his list of achievements were his wins at 301, the second highest total ever registered by an Arkansas high school football coach. Accompanying it were only 138 losses (and 4 ties), proclaiming Mike won almost 70% of the contests his Panthers played.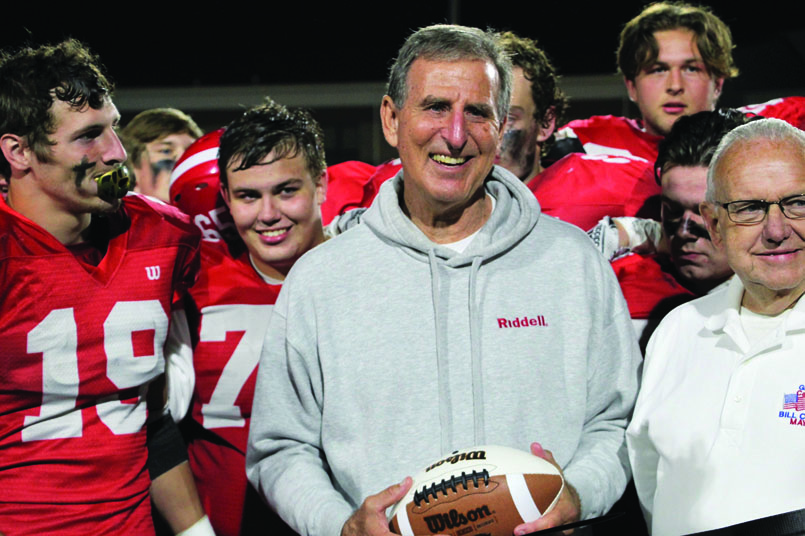 Between 1981 and 2018, Cabot earned 15 conference championships, participated in the state semifinals 11 times, claimed three state runner-up titles, and won two state titles — the first in 1983 with a record of 13-1 and the second 17 seasons later with a 14-0 mark. Recognizing his excellence, the Arkansas Democrat-Gazette called him Coach of the Year in 2000, Channel 4 declared him Friday Night Coach of the Year in 1997 and 2000, and Channel 7 added 7A Coach of the Year in 2013. Two years later, Mike joined his beloved father in the ASHOF.
Within hours of registering his amazing 300th career victory in 2018, Cabot's mayor declared the following Oct. 13-19 "Mike Malham Week in Cabot," an accolade rare in athletics at any level. Rare, too, is the mathematics teacher who has earned the superlatives-filled reputation for pedagogical effectiveness that Mike carried into retirement. A decades-long colleague recently voiced an assessment popular in the community, as well as on the campus: "Mike was an excellent teacher!"
It is easy to discern why Cabot, Lonoke County, and the 501 all treasure Mike Malham.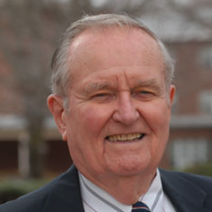 Latest posts by Bob Reising
(see all)