31 May

Celebrating Athletic Excellence: Faulkner County's Braves Field

By Dr. Bob Reising

Nearly two decades ago, a Conway backyard transitioned into a ballpark. Behind their home on Tyler Street, Bill Patterson and Kim Mitchell introduced a miracle into the life of their beloved son Ben, an eight-year-old with special needs, who hungered to experience the joy of playing baseball, his favorite sport. On uniquely outfitted Braves Field, Ben finally found an opportunity to play America's "Summer Game," to graduate from spectator to participant and thereby gain equality with every other youngster. On the first Thursday of April, 2003, the innovative facility brought him and eleven of his similarly disadvantaged friends the ecstasy they had long sought: they played baseball.

In the following years, at a variety of sites scattered throughout the city, Braves Field has hosted hundreds of disadvantaged baseball-loving participants, its diamond invariably a haven of delight and merriment. Simultaneously, Braves Field has evolved into a precious asset and attraction, a palpable tribute to the initiative, generosity, empathy, and compassion of Conway's citizens.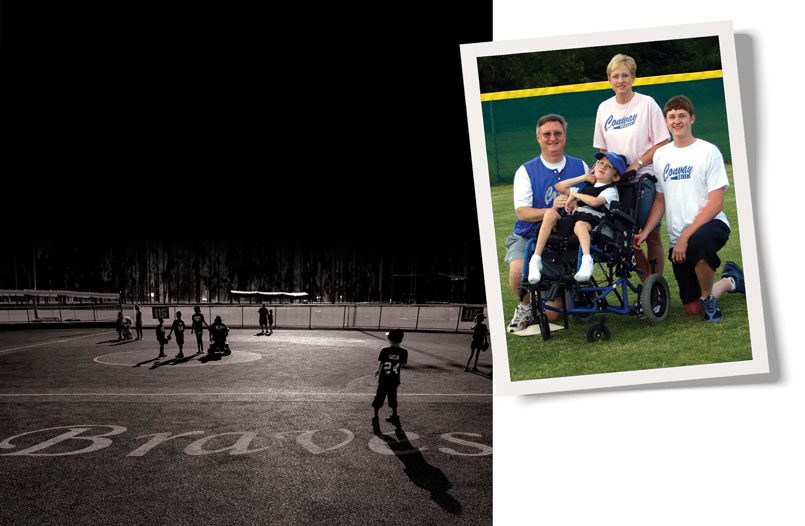 Since its creation two years before the celebrated Miracle League for children with special needs established its first Arkansas presence, the Field has known three other homes. UCA and Hendrix followed the Patterson backyard and provided appropriate diamonds before funds were obtained to construct a new, handsome, and permanent Braves Field at Curtis Walker Park. While modernizing the Park in crucial ways, the sizable sums from the Federal Government, the State, and benefactors, several of them matching grants totaling in the millions, transformed Braves Field into a resource with few equals elsewhere. Its placement at Curtis Walker also guaranteed it a home for decades to come. Its seasons as a grateful guest were ended.
Truly, with more youngsters as well as disabled adults added each spring, it had merited stability and a twenty-first century updating, complete with amenities commonly found in conventional baseball stadiums. Shepherded by visionary city leaders, particularly Alderman David Grimes and Mayors Tab Townsend and Bart Castleberry, and aided by dozens of no less committed city employees, Braves Field approximated perfection when re-done. Its transformation was total and timely, its transiency over.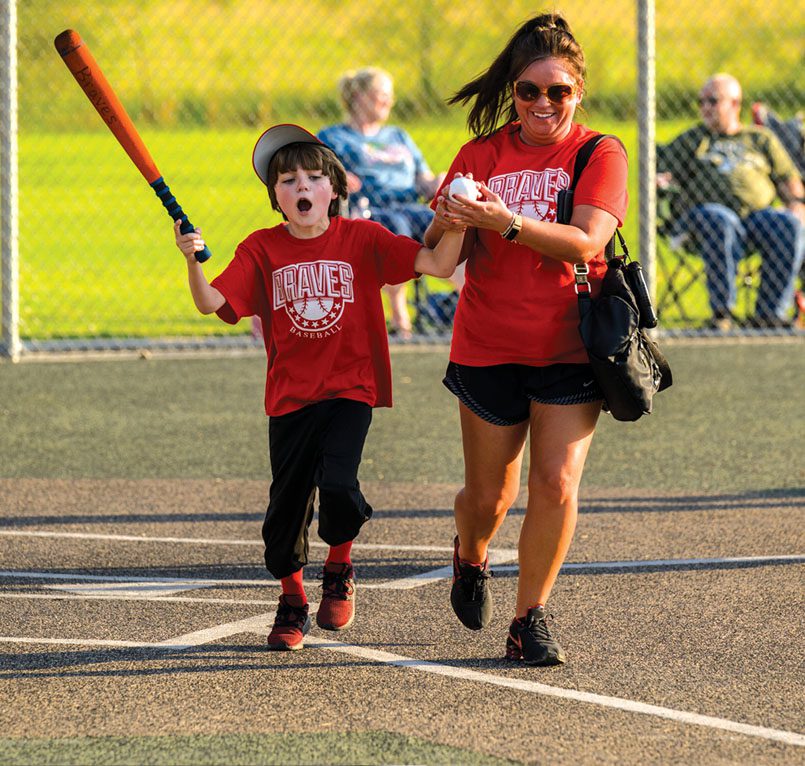 Yet neither the well-publicized 2014 grand opening of an eye-catching site nor the site itself — nor the two together–should mislead anyone. "A Moveable Feast" that annually and enthusiastically served for over a decade merits no less respect; its creators, aides, and fundraisers will always warrant praise and gratitude. Included were groups from churches and service clubs, students from Conway's high school and trio of institutions of higher education, and dozens of private citizens. To have organized, publicized, launched, overseen, improved and funded Braves Field for such a lengthy period is a monumental achievement that took hundreds of volunteers and thousands of man- and woman- work hours. And volunteers they were; not a single one gained compensation, not a penny, regardless of the time contributed or the expertise provided.
Developing a model of baseball play suitable for youngsters with Special Needs on a diamond resembling a traditional baseball field required ingenuity. That challenge initially fell to Bill and Kim, who also developed "a buddy system" allowing each player an able-bodied volunteer to assist him or her with necessary baseball moves, like swinging a bat or running bases. The Pattersons' altered rules also permitted no inning to end until every player had batted, as well as "a nothing but fun" atmosphere to saturate every minute of play in the six-game seasons. The lone hits allowed were home runs.
A cap and a tee-shirt soon adorned every player; a public-address announcer provided player introductions; cook-outs, snacks, and popcorn appeared; and a post-season banquet ended every season (the first at the Patterson home!). At that gathering, every player received a medal for participating. Obviously, Kim Mitchell labored as long and hard as her husband in making the first seasons joyous, unique, and memorable.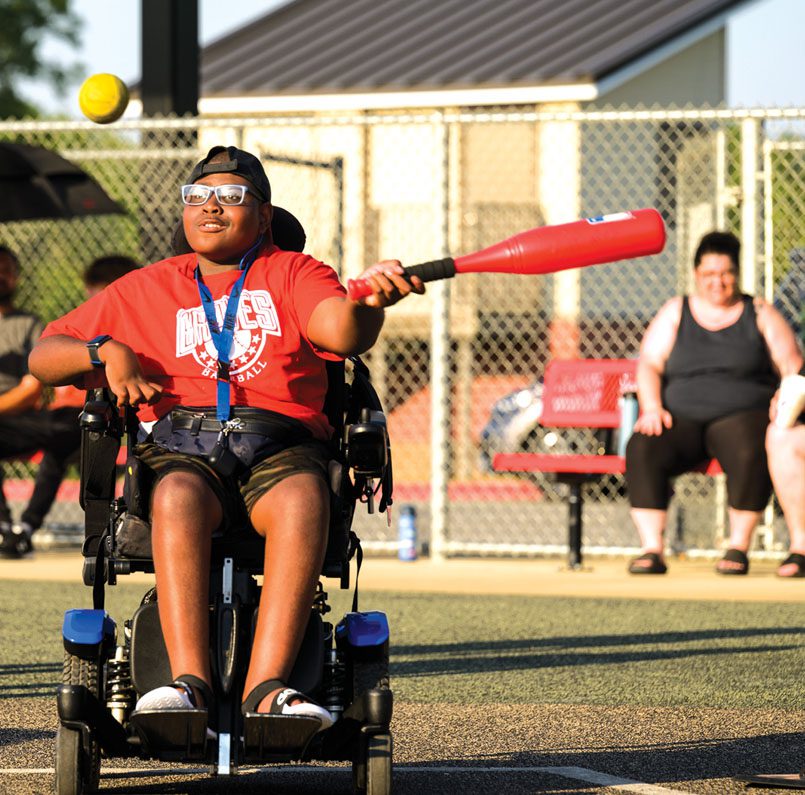 Six other volunteers did no less:
Zettie Caudle, now retired but always modest, was tireless with her volunteer time; she was so successful in gaining donations for the Field that now, given annually, is a Zettie Caudle Award (her husband aided, too);
Ellen Turney, a dentist, clocked countless hours of volunteer time, especially with Concessions, and was superb at every responsibility she attempted;
Roger and Kay Taylor were ceaseless in photographing players and volunteers in action, pictures that were highlights of every season;
Tommy Hewitt, owner of Randy's Athletic Shop, was more than generous in outfitting all players with their two-item uniforms every season;
Bob Leffert was spectacular for years in preparing hot dogs, hamburgers, and other ballpark foods for always-appreciative crowds;
Robbie Powell was the volunteer inseparable from Ben on the ballfield, an attentive guardian and guide during five years of play, until Ben's passing in 2007.
'Are we happy now?' was the question smiling Ben often posed after finally gaining an opportunity to play baseball: unquestionably, thanks to his resourceful parents and native city, he now continues to hear a loving 'Yes!'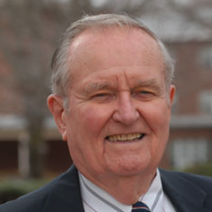 Latest posts by Bob Reising
(see all)