11 Sep 2023

Celebrating Athletic Excellence: Ed Duncan

By Dr. Robert Reising

The phone call for which he yearned never came. He suffered profound depression when an invitation to sign a professional baseball contract failed to reach him. "It lasted for months … it was one of the most disappointing times of my life," Edward Joseph Duncan, Jr. said.

But weeks later, one he never envisioned arrived out of the blue, lifting his spirits while intriguing him. It simply inquired about his possible interest in teaching elementary school art and assisting with football. It was to change his life for the better.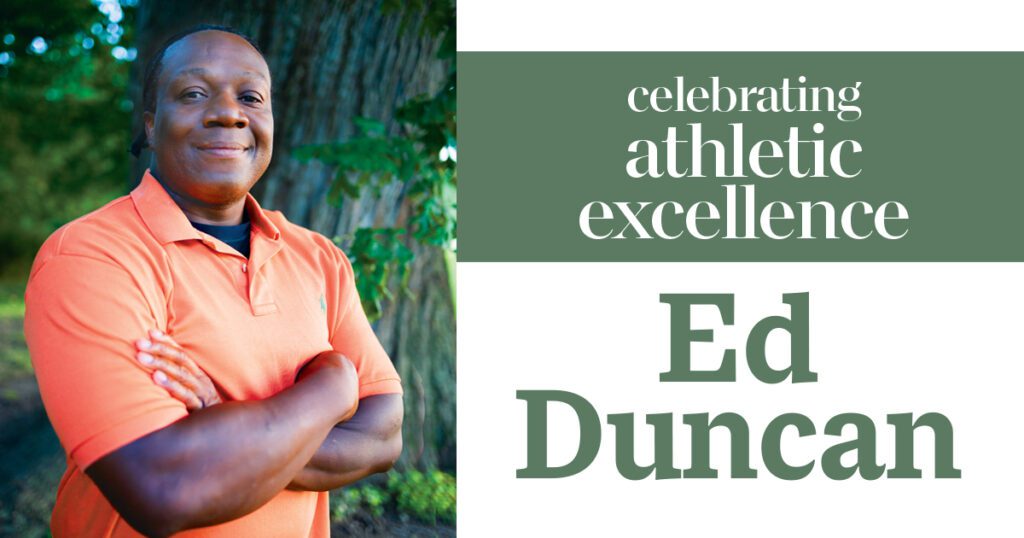 Suddenly brightening his despair was a flicker of light. Although uncertified for public school teaching, and knowing little about it, he responded with a hesitant but grateful "yes."
His two loves, art and athletics, had been his constants since his earliest years, and that phone call launched his reciprocity—his payback: he knew he could assist youngsters in their struggles to gain and remain on the smooth paths they needed to travel in pursuit of their dreams. In 2023, at age 45, over two decades later, he is truly a fulfilled "Wonder Boy," one in whom his college alma mater takes genuine pride.
Duncan was born in Conway (Faulkner County) in 1978. His parents, both Morrilton residents, never failed to provide him and his five siblings with a setting filled with love and understanding. "They never pushed us," Ed emphasized recently. "They supported and encouraged us in directions we enjoyed but were never pushy."
His path into athletics was similar. Initially, he tried every sport he encountered. By the ninth grade, although his speed, strength, and athleticism harbingered success in a variety of other sports (i.e., track and field, wrestling), he found football and baseball most rewarding. He also realized he wanted to play both sports in college. His parents were supportive.
But Ed's mania for athletics blinded him somewhat to academics. His Morrilton High School (MHS) grades permitted eligibility in high school but suggested possible obstacles at the collegiate level. Coupled with his size of 5-feet 9-inches and 160 pounds, by his junior year he possessed a growing awareness that all schools he found attractive might not be willing to admit him unconditionally for two-sport intercollegiate competition and also scholarship him.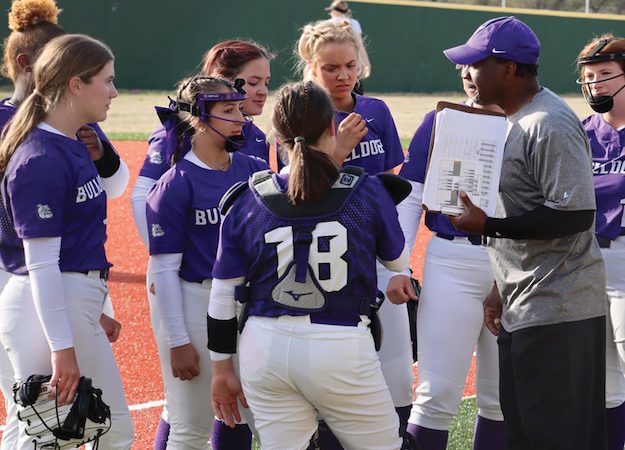 While communications of interest from higher education declined as Ed's senior year replaced his junior, his credentials in both baseball and football exploded with quality. He added a pair of Varsity letters in each, garnering a total of eight high-school letters, while earning All-Conference honors in both sports as a junior and All-State honors as a senior in both sports. He claimed 2,474 rushing yards in MHS football, 1,331 in 1995 alone, with 304 gained in a single contest. He capped his MHS play with appearances in both baseball and football's State All-Star Games. Throughout the two years, Major-League baseball scouts had joined football coaches in marveling at his speed and athleticism.
On the eve of leaving for Conway and the University of Central Arkansas, where he was to play both sports, he learned that a test score would deny him intercollegiate athletic participation in his first year. Confusion followed, and hastily solicited advice from MHS educators steered Ed to Arkansas Technological University (ATU) in Russellville by week's end.
At ATU, he continued his stellar play while majoring in his beloved art. He rewrote the school's record book in football between 1996 and 1999, and halted by injuries, starred in baseball between 1997 and 2001. On the gridiron he completed his career with 2,868 all-purpose yards, 1,624 rushing yards, 30 touchdowns, and, in 1999, membership on the first Gulf South Conference (GSC) championship team from Arkansas ever to win the football title outright and the first ATU team to appear in the NCAA Division II Playoffs. Small wonder that he was named a 1999 USA Football All-American.
Before suffering his second serious injury at ATU, Ed captured baseball honors in 2000 as the GSC's finest center fielder, starred on the following season's 32-win team, and accumulated 62 career stolen bases. At season's end when he completed his baccalaureate in 2001, he accepted invitations from Major League scouts to attend several baseball tryout camps, and registered some eye-popping numbers in timed races. Feedback suggested he would be selected in the coming major-league Baseball draft, but he was not.
More than two decades have passed since those halcyon days ended, and assisting others has overwhelmed satisfying self as Ed's principal motivation. His strong work ethic, his exemplary efforts in the classroom as well as on the softball field, and his belief that art and athletics can develop and enrich the nation's youth have taken him to five schools, and in 2022 to the acclaimed Fayetteville High School, established in 1871. There, in his own words, "I made history. I am the first African American head coach of any sport in school history."
Girls Softball and art could not be in more capable hands, nor could any "Natural State" teacher/coach be more content.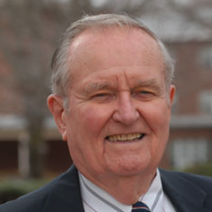 Latest posts by Bob Reising
(see all)