30 Oct 2022

Celebrating Artistic Excellence: Suzann deShazo Waggoner

By Stefanie Brazile

Editor's note: Two years ago, I asked Mrs. Waggoner to help develop a new monthly feature for readers: Artist of the Month. With her assistance, since January 2021, 501 LIFE Magazine has featured fine art painters, sculptors, photographers, dancers, stained glass makers, craftsmen and singers. I am grateful for her knowledge and contacts with numerous Central Arkansas artists and for her generous spirit in wanting so many of them to be featured before herself.

No surface was safe. As a preschooler, Suzann deShazo Waggoner was drawing on lampshades, adding illustrations to books and regularly getting into trouble for doing so. Undeterred, she followed her passion for lines and colors and allowed it to flow from her hand. And now in her 70th season, the national award-winning watercolorist continues to create and to give.

"If you are a painter, it's a gift to you. Give it away every chance you have," Waggoner said. "Donating your talent to a cause is essential."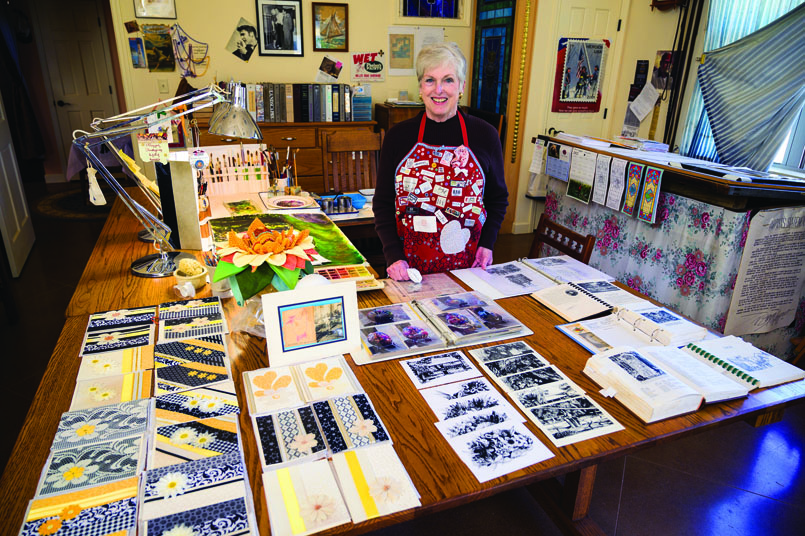 The South Miami native attended Florida State University in Tallahassee, initially enrolling in home education classes to appease her traditional parents but changing her major to art at the end of the first year. When she called home to tell her parents, she could hear the disappointment 480 miles away. "My father said he would keep me enrolled but wouldn't pay for any art supplies."
Always resourceful, Waggoner noticed that art students were throwing away half-used sketchbooks and tubes of watercolors that weren't completely squeezed out, so she went "dumpster diving" for supplies. "That's how I became a watercolorist, because I couldn't find oil paints," she laughed.
In 1966 she married Benjamin Waggoner and after seven years in the Air Force, the captain and his family were stationed at the Little Rock Air Force Base. "We liked Arkansas. It was a busy life, so I painted at night after all five children were in bed," she said. She now lives on a nationally recognized wildlife habitat in Mount Vernon and hosts artists at en plein air events for group painting. She has taught hundreds of students, never charging to share her expertise. "Artists who die with their secrets – what a travesty!" she said.
Although Waggoner was raised in a city known for celebrating an eternal summer, the lady with bright, inquisitive blue eyes loves the changing of the seasons found in Arkansas and has focuses many of her canvases on its natural beauty. She likes to take photographs from which to paint because "I'm a stop-and-start artist and the light never changes in a photograph."
Her works are in corporate and private collections throughout the eastern and southern U.S. One of her most noted wins was the 2007 Paint America Mini Top 50 Competition. The fine artist also won Best in Show at the 25th Texas & Neighbors Regional Art Exhibition and is most proud of being chosen for the San Diego Watercolor Society's "International Exhibit" in 1994 when she received the Winsor & Newton Watercolor Excellence Award.
Additionally, her work has been accepted into the archives at the National Museum of Women in the Arts in Washington, D.C., and has won honors with the Mid-Southern Watercolorists, which encompasses the Southern U.S. Her spacious art studio walls are lined with certificates, and an array of ribbons hang on one side of the room. Large windows drink in natural light, and massive tables with special lamps indicate someone who has light to work anytime inspiration hits or, rather, as time allows.
Waggoner is an expert at watercolor, mixed media (watercolor with oil pastel) graphite, soft pastel, hard-pressed pastel, Conté crayon and also pen and ink, which involves dipping a quill into a small bottle of the blackest ink.
She knows that her fascination with the drawn line has been part of her since birth and has strong convictions about an artist's responsibilities to teach others, to donate one's talent to help causes and to share one's techniques. "You can paint your masterpieces, but when you're not, teaching and donating your talent to raise money for a community effort are essential."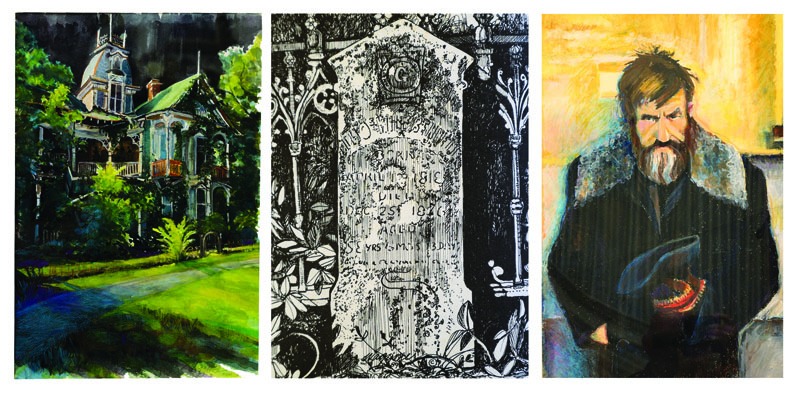 Waggoner's artistic efforts have included Illustrating books and creating note cards for organizations. The addition of her art increases the value of any item or space. Waggoner created pen and ink renderings from photos in Faulkner County for the Cemetery Census history book, to help rebuild the Cadron Settlement Park Blockhouse, for the Junior Auxiliary cookbook, to preserve Toad Suck Ferry, of the current First Security bank building on Front Street and for the museum.
"The idea is to serve," she said. "Keep giving the gift. Usually, I go to an organization and offer to help."
In 2008 First lady Ginger Beebe asked her to be part of the Arkansas Artists Calendar. "I was Miss March," she teased. Waggoner painted the Old Junction Bridge. "It's a watercolor, but a dry point, which is the antithesis of a real watercolor painting," she said. "It's missing the looseness of washes. In fact, it misses the whole point of watercolor altogether because it's so tightly rendered. I just missed that class," she quipped with a smile.
Although she stays in demand as a member of a dozen organizations, Waggoner is first and foremost a working artist whose talents are on full display in the pieces she creates. For example, during our interview, a watercolor landscape that is due Nov. 7 featuring purples and greens was on display in the background. It is destined for a juried evaluation by the Mid-Southern Watercolorists.
A hands-on artist with a social conscience, Waggoner is passionate about "The 6 o'clock news" as a source of inspiration for paintings. Armed with a camera, she has crawled beneath floorboards in abandoned homes, climbed to dangerous places in historic buildings to photograph an interesting angle and talked with folks that many people ignore in order to understand their viewpoints. Then, she creates art that tells the background of or gives a greater insight into the issues.
Once, she helped a college preserve funding for the art department by curating a full show of her "6 o'clock news" and mixed media artwork. When she talks about the pieces, her concern and tenacity shine through. "We [artists] are illustrators of history," Waggoner said. "From coronations to liturgical paintings, historical people and battles, it was the artist's responsibility to interpret historical events. There was always some form of artistic expression in pottery, jewelry, beadwork, weaving, even in caves."
Waggoner is an artist of lifetime achievement with a strong conscience who uses her talents and honed skills to benefit and enhance her community. "I encourage all young artists to get as good as you can and never stop experimenting or learning." Since that childhood day when she drew on a new lampshade, Waggoner has continued to allow her perspective of people, places and events to flow from her hand and heart and onto canvases, to the delight of the rest of us.