01 Jan 2023

Celebrating Artistic Excellence: Judy Pryor Trice

By Tammy Keith

Veteran Little Rock actress Judy Pryor Trice's career highlights include performing in the movie "Sling Blade," hosting her own television show and, oh, yes, that time Ben Affleck and Jamie Lee Curtis applauded her.

"That was just a hoot," Trice said, laughing as she recalled the famous actors' responses.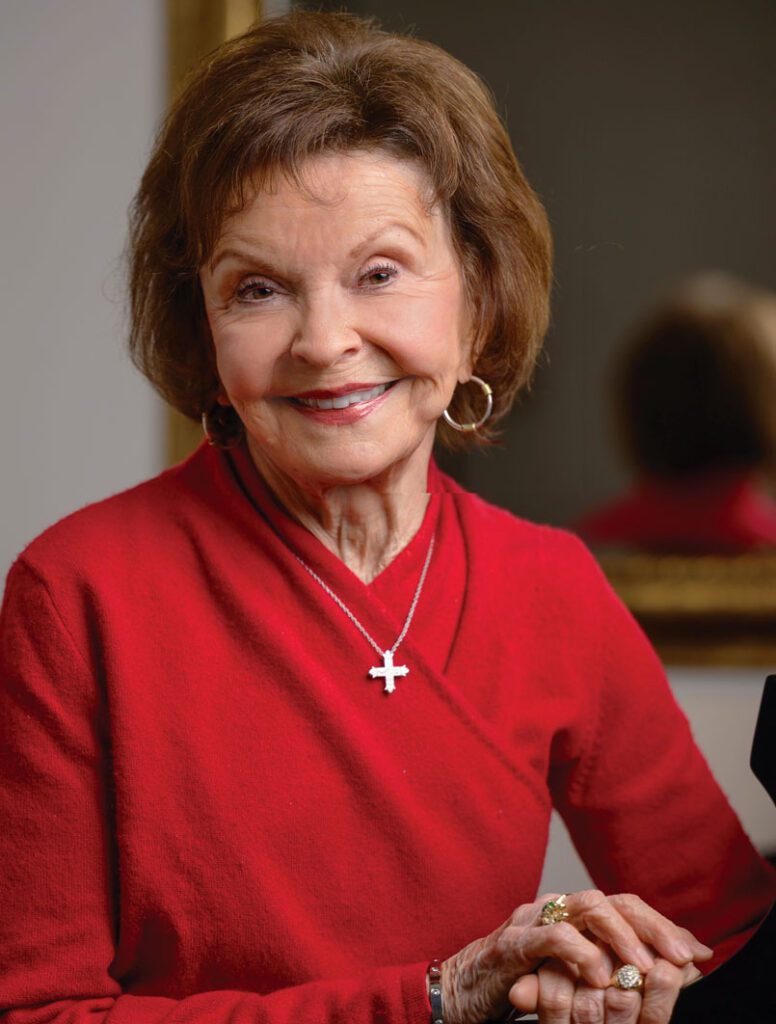 Arkansas-born actor and director Billy Bob Thornton cast Trice as Mrs. Woolridge in "Sling Blade," which was filmed in Benton and won an Academy Award.
"Doing 'Sling Blade' was lots of fun," Trice said. She played the wife of the mental hospital administrator. "Billy Bob was a very nice person to work with, just very considerate," she said.
Trice also had a role in Thornton's lesser-known film "Daddy and Them." "He called me and said, 'I have this very small little part. Would you do it?' He was very sweet to me during that time."
She played the receptionist. "I had a wonderful, big ol' hairdo, and I think I had on a purple suit with a turquoise scarf — just outrageous."
Trice had to answer the door in the scene, and Thornton didn't tell her who was on the other side. "I opened the door, and Andy Griffith was standing there, Diane Ladd, Laura Dern, Kelly Preston." She opened another door, and "there was Ben Affleck, luscious and handsome, and Jamie Lee Curtis. I didn't feel star-struck; I was more surprised," she said.
At the break, Thornton had the famous actors sit down and asked Trice to perform her scene from "Sling Blade" with him. "They all applauded. He [Thornton] said, 'I wanted you to know she's a real actor,'" Trice said.
She's also an accomplished singer and pianist, as well as a dancer, which helped her land role after role through the decades. That long list includes "Guys and Dolls" and "A Little Night Music," years apart at The Arkansas Repertory Theatre and Argenta Community Theater. Trice also performed in "Steel Magnolias" and television commercials.
In 2022, she was cast in three stage shows, including as the lead of the popular "Driving Miss Daisy" at the Argenta Community Theater. "It's just a lovely play and a nice challenge for an actor because she ages in the play from 72 to 96."
Trice, who grew up in Bald Knob, started performing throughout Arkansas in the 1940s at age 3 with The Novettes, started by Nadia "Mrs. Ned" Novak, who was famous in the small town.
"She discovered I could sing 10 or 15 songs," Trice said. "I performed as sort of a little mascot." Novak also taught Trice to tap dance.
Trice's talents were not an anomaly. "My father was a fabulous singer; my mother designed all the costumes. She made everything I wore until I went to college." Trice skipped her senior year of high school and graduated from the University of Arkansas at Fayetteville, married her first husband and moved to Tulsa, Okla. She landed a job at a local television station as a weather forecaster and host of "The Judy Pryor Show," all while continuing to perform in community theater. She came back to Arkansas in 1966 and worked at KATV in Little Rock, where she again hosted "The Judy Pryor Show," always making time for theater.
Trice shared her experience with the younger generation for 18 years, teaching theater and English at Hall High School in Little Rock. "I had a fabulous time. I loved teaching; I loved directing. I directed lots of musicals at Hall High School. I had super students; many went on to have careers." She left Hall to direct touring operas for Wildwood Park for the Arts in Little Rock, and she became an artist-in-residence through the Arkansas Arts Council to teach music and dance in elementary schools.
She counts among her most fun experiences the 15 years she performed with friend Mary Berry, accompanied by pianist Lori Isner. "We had an act called The Hot Flashes, and we sang all over this state. I mean, we sang for some big stuff in Arkansas, chancellor's dinners, private cocktail parties, festivals, the Legislature … ."
Trice met the love of her life, lawyer and fellow actor William "Bill" Trice III, while they were both performing at the Arkansas Arts Center. "We were really a good match," she said of her second husband, who died in 2014.
Talent is in her family's DNA. Her three grown children are all talented in their own right; two are involved in theater. Kathryn Pryor is an attorney, actress and singer, and Trice has performed alongside her daughter in shows, including "Into the Woods." Will Trice, a Tony Award-winning former Broadway producer, is executive artistic director of the Arkansas Repertory Theatre, and Jeff Pryor has a marketing firm in Fort Smith. He has a "beautiful" singing voice but avoids the spotlight, Trice said.
Trice chose building a family in her youth over moving to New York to pursue fame and fortune, but she has no regrets.
"I've been blessed with various kinds of work that has all brought me a great deal of joy, including being a mother and grandmother. I think I had the best of both worlds," she said.