30 Jun 2021

Celebrating Artistic Excellence: Barbara & John Rhodes

By Aaron Brand

Not all art is found inside a gallery or exhibition space. We may just as easily see art on stage with actors moving around it, sharing the dialogue and action necessary for theater to come alive.

It's scenery, another facet of the dramatic arts that makes a play or musical feel believable and real.

Arkansas-based set painters like Barbara and John Rhodes provide an essential element to theatrical productions, whether it's "Ragtime," "Newsies," "La Cage aux Folles" or "Cabaret." The set establishes a place where characters and plot find their proper home.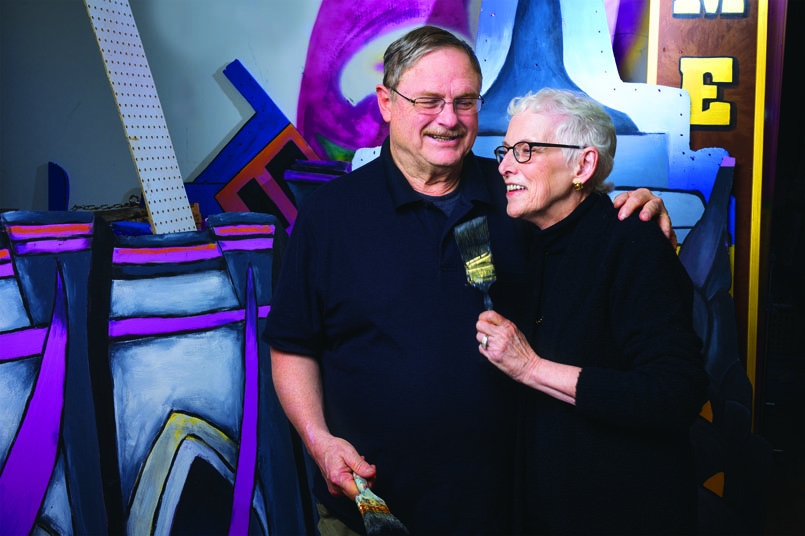 Artists in their own right, this husband-and-wife team's talents help North Little Rock's Judy Kohn Tenenbaum Argenta Community Theater productions realize the theatrical team's creative vision.
Barbara and John began their ACT involvement with a 2013 production of "Jesus Christ Superstar." Suzette Patterson, a friend and Barbara's former fellow teacher at North Little Rock High School, encouraged the couple to paint scenery for ACT, Barbara recalls.
John explains that a group of teachers came together to build scenery and he joined them. "I became one of the girls then," he quips, adding, "It's a lot of people who have an interest in the theater, an interest in the community, and enjoy being around each other."
Barbara believes that painting sets creates a space where others may flourish. "You feel like you're not wasting your time, but you're really doing something you enjoy. In the process, we end up with another media that other artists can use to express their craft, and we have got talent here."
What makes Argenta Community Theater so successful? Dedicated people, for one thing.
"I think it has a strong network system. Everyone knows everybody or knows of someone," Barbara said, calling ACT co-founders Judy Tenenbaum and Vince Insalaco strong advocates for the theater company.
"They have sponsored things and they have backed up things, not just with work but with their money and their time." Barbara noted that actors have also worked with the company for a long time.
John believes that the local theater community supports each other. His wife agreed, saying, "Nobody is trying to undermine anybody. Everybody is trying to help everybody."
The couple help with two or three Argenta productions a year. Barbara even did a small part for "Mrs. Minerver." "It was a wonderful experience," she recalls.
What makes for great scenery in a play? It depends. With a laugh, Barbara said, "Sometimes no scenery." John explains that a little may be enough, and sometimes a deep background is needed, as with "The Secret Garden," where greenery and flowers set the outdoor mood.
For "Fiddler on the Roof," wooden slats were painted for the floor. "We were on our knees or bending over a lot," Barbara remembers. They felt it.
They work hard on aspects like a scenery flat used to depict a building, room, or some other part of the set. Banners for "Brigadoon" are an example, or the Statue of Liberty, necessary to situate the action in a certain time and place, Barbara explains.
"It's only used three seconds in the play, but it's important to tell the story," John said.
Both bring their artistic past to the current work. John was an art major but also involved in theater at Hendrix College.
"I still paint, and I've got friends who make their living painting," he said. Acrylic is his favorite. He likes beautiful, impressionistic paintings.
It boils down to creative thinking according to Barbara: thinking outside the box. She encouraged her students to do so at North Little Rock High School.
Her art? Eclectic. She knows a lot about this, a little of that. "Because I'm a teacher I have a huge toolbox," she said.
Her page at FineArtAmerica.com showcases Yupo paintings (Yupo is a synthetic paper), oil paintings, watercolors, digital art and calligraphy.
"I've never really perfected what Barbara Rhodes' art is," said Barbara, a Mid-Southern Watercolorists and calligraphy guild member. She figured she'd do so when she retired, but she discovered that was too labor-intensive.
"I didn't want to sit down and have to do 100 pieces of artwork," Barbara admits. To establish a style, artists concentrate on work that showcases certain elements that become their signature look, recognizable in all they create. Instead, she simply crafts art she enjoys, whatever that may be. She'll have several projects going at the same time and then focus on creating something pleasant from the chaos.
John said they use their art skills in ACT set work. For example, scenery must look a certain way to the audience, regardless of what it looks like on stage. "The lighting has to be the right thing, the scenery has to be the right thing, the music — that all comes into it. It has to work together."
Having survived the pandemic to see theater life reopen, what do they view as the value of dramatic endeavors?
"Oh, being back together again, to work together and be a community again," Barbara said.
After all, art is a shared experience. If someone paints a thousand pictures but nobody sees them, nothing is accomplished, her husband believes.
"You can't have a concert or a play or anything without an audience," John said. "A person can play in a room all day, but until somebody hears you play, it's just him. The same thing with theater, even more so. You've got to have the interaction. You're doing it because you enjoy it, but what you enjoy is what the people who are attending receive from it."
He recalls a story about a woman whose house burned down, destroying her quilts inside. Everyone said she lost everything. Not true, he explains.
"She said, 'No, I still have everything I gave away,'" John said. "As long as you're able to give to the community and give to other people, you have something. That's why people do this."
It's the sharing that matters for Barbara and John Rhodes — creating sets, creating art on stage, is another way to share.
"I feel like we have been given a gift, and our art has given us the ability to have a richer life because of our experiences," Barbara said. Ever the teacher (she taught 36 years and, she estimates, more than 6,000 students), she runs a Facebook group page titled Art Projects and Other Tools for the Art Classroom, which has an obvious purpose. The couple's art is found on another page, Barbara and John Rhodes' Art Gallery.