06 Mar 2020

Celebrate: Conway Regional Women's Council helps meet needs

by Mathilda Hatfield

There's a classic Kool & The Gang song, "Celebrate," that comes to mind sometimes when I gather with friends. You know the one:

"Celebrate good times, come on (Let's celebrate)
There's a party goin' on right here
A celebration to last throughout the years…"

Now that these lyrics are stuck in your head, consider how relevant they are to this month's 501 LIFE theme, "Celebrating Women." This song, and the theme, resonate with me because, as the current president of the Conway Regional Women's Council, I get to interact with community leaders to celebrate women year-round through luncheons, programs, education grants and during the most wonderful time of the year: Dazzle Daze.

Yes, the Women's Council has been celebrating women not only throughout the year, but also throughout the YEARS, 19 to be exact. In 2001, (then) Conway Regional President and CEO John Robbins called together women leaders in the 501 to organize an advocacy group, an auxiliary to the Conway Regional Health Foundation. Through the years, thanks to the Council leadership, the vision and mission have strengthened:

"The Conway Regional Women's Council supports its mission through education, advocacy, volunteerism and financial support, ensuring Conway Regional is recognized as the regional leader in healthcare excellence. The Women's Council is dedicated to building a healthy community."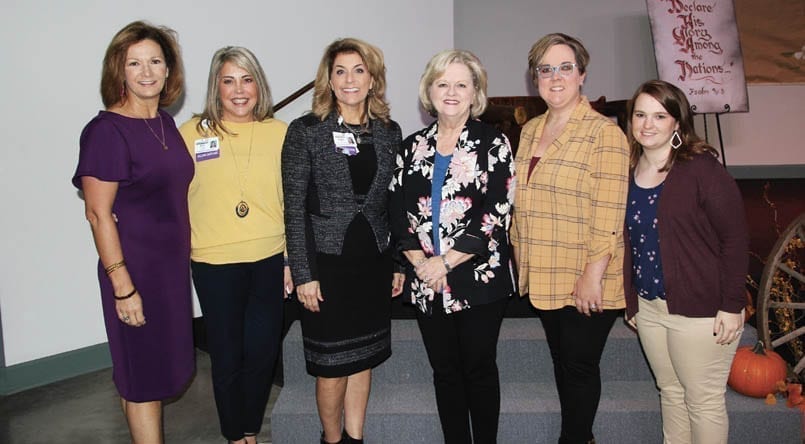 Similar to other vibrant organizations, the Women's Council has been discerning its purpose and strategically planning for the future. Through myriad discussions led by Lori Ross, chief development officer for the Conway Regional Health Foundation, and by Dot Welch, CRHF executive director, the Council has identified one fundamental tenet: to equip the women of our community to make informed healthcare decisions. Research shows that women are the healthcare decision-maker of the home and the strongest advocates for improving the health of their loved ones. This is the driving force behind each activity sponsored by the Council.
Here are a few examples of that force, and the positive impact of the Women's Council in the 501:
The Program Committee, led by chairman Angela Ansel, celebrates the innovative mindset of Conway Regional through the successful CHAMPS, (Community Health Applied in Medical Public Service) Program. Offered in partnership with UAMS and Arkansas Farm Bureau, Angela and Conway Regional Program Coordinators Lori Reynolds and Trista Spence introduced regional high school students to the practical application of scientific theories and concepts to real-life health careers, diagnosis and treatment scenarios. Each of the two free sessions held in June 2019 had to be limited to 20 competitively selected participants. And there was a wait list! A few years ago, the Women's Council saw an opportunity to host a program with the potential for major community impact. Through effort, time and support from corporate partnerships, CHAMPS has indeed grown beyond expectations. Celebrate good times, come on.
Co-chairmen Stefanie Vann and Courtney Kendrick continually develop the community favorite, Fall Luncheon. This past October, a group of 200 met at Renewal Ranch to celebrate the theme "Gather: Staying In Balance, Mind, Body & Spirit." Donna Seal, licensed psychotherapist and board-certified Christian counselor, and Matt Troup, president and CEO for Conway Regional Health System, led attendees to explore the connection between mental, physical and spiritual health and how to better stay in balance. Our tradition of a fall luncheon will continue in 2020. So bring your good times and your laughter too…
Keri Yarbrough and Shannon Howland, co-chairmen of the education committee, reach out to area educators concerning the Council's teacher grant program – promoting and encouraging good nutrition and healthy lifestyles among students, teachers and staff. In 2019, more than $4,700 through nine grants was awarded to schools in Conway, Greenbrier, Russellville and Maumelle. If you're leading an innovative program seeking funding, go to conwayregional.org/about-us/womenscouncil for an application.
Last April, more than 200 women (and a number of men) made time for themselves at the 18th annual Women's Health Fair. Brittany Butler and Pam Sims organized a multitude of vendors to offer free health screenings, resources, support and lunch. This Health Fair tradition, (meaning it "lasts throughout the years"), welcomed many repeat visitors and introduced the Women's Council to new friends. What's not to celebrate?
Speaking of, three full days of shopping mania benefitting the women in our community is worth celebrating! Come on, now… The 2019 Women's Council Dazzle Daze Winter Market opened to a fresh, new theme and nearly 100 merchants from across the country. For the past several years, the Women's Council has dedicated Dazzle Daze proceeds to purchase Tomosynthesis (3D) mammography machines and to provide medical student scholarships and community health programs.
As you can imagine, a party of this magnitude requires a major force to implement. The largest of the Women's Council committees, Dazzle Daze is beholden to the leadership of CRHF Major Gifts Executive Marla Hambuchen and co-chairmen Shelia Isby and MissE Newton.
Socializing, networking and developing friendships are definitely part of all celebrations, right? So bring your good times and your laughter too, because the Women's Council is open to all persons interested in and wanting to support Conway Regional Health System. Led by Amelia Day and Jennifer Hillis, the membership committee develops and grows the Council membership. They also organize educational and social gatherings for current and prospective members. Visit conwayregional.org/about-us/womenscouncil for membership information.
The full Women's Council Steering Committee is the true power behind the significant impact of the Council programs. It is with a grateful heart that I get to serve with this amazing committee and the CRHF leadership team. And we are all VERY cognizant that these programs are successful because of the participation from the 501 community. So, while not as catchy in the song lyrics, I'd like to insert Appreciate as synonymous to Celebrate. Consider this, "We gonna appreciate and party with you… Come on now" 501 community, let's appreciate women, and let's celebrate women and their invaluable influence on a healthy, vibrant, outstanding life in the 501!