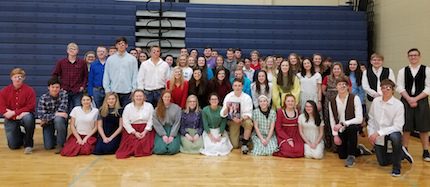 11 Feb

CCS play set March 15

by Sonja J. Keith


Some of the students cast in roles in this year's Conway Christian School production of "Treasure Island" recall when not too long ago, when they were younger, they were the ones sitting in the audience.


The Conway Christian Drama Club will present "Treasure Island" at 7 p.m. Thursday, March 15, in the gym at the school. The play is under the direction of drama teacher Laura Shelton.

Students vote on which play they will perform in the spring and this year, there was a need for a production that would accommodate a large male cast. A fight scene with swords was also appealing. "It was a pretty popular choice," Laura Shelton said of "Treasure Island." "We almost always have a small fight scene. This year, it will be a bigger one with swords."


The set for the play, which will be presented in the school gym, will include a big ship that will be the centerpiece, island scenery and a tavern scene. "It takes a lot of extra work to make a gym into a set," said Shelton.


Each year, a Scripture is identified to go along with the play. This year, it is Mark 8:36-37 – "For what will it profit a man if he gains the whole world, and loses his own soul? Or what will a man give in exchange for his soul?"


Shelton said the play points out for students and the audience the importance of focusing on the right things, including relationships and developing character. "The good people win because they do the right things."


Senior Olivia Ford is in her third play at CCS and has been cast as Bonny, a lady pirate. She previously was a Munchkin in "Wizard of Oz" and Animal No. 5 in "Narnia," and is excited to have a bigger role this year. She is putting time management skills to work, juggling schoolwork and her responsibilities as a basketball team manager and member of the school soccer team as well as choir and other extra-curricular activities to be in the play.


Ford enjoys most getting to work with other students on the production. "Most everyone in the school participates in some way," she said. "It's really neat to see the whole school come together (to work on the play) because you don't get those opportunities often."


Shelton said 95 percent of freshmen through seniors participate in the play, with nearly everyone involved in at least one production by the time they are a senior.


Lauren Kinley has been cast as lady pirate Calico Annie in her third CCS play. "It's a pretty big step for me," she said. "I've never had a line. I'm pretty excited to have a part this year."


Gracie Hill has been involved in each of the plays in high school and has several responsibilities in the play. In addition to being the set manager and designing this year's play poster, she has the role of Auntie Nan. She has a lot of help with the set, which she said is important if things are to run smoothly.


With two older siblings who have graduated from CCS, Gracie recalls looking up to them and seeing them perform in the school play. She remembers being in elementary school and sitting in the audience for the afternoon performance. "It's really cool to be on both sides of that," she said, adding that the play is one of her favorite school traditions.


Junior Brandon Shaw has the role of Long John Silver. It is his first major role. "It will be very funny and super fun," he said.


Jackson Quick has the role of Jim Hawkins. A senior, he was a member of the tech crew the last two years. With his senior year in mind, he decided to try out for a larger role. He enjoys most the opportunity bond with his peers and feels that the play helps him improve his communication skills and gain confidence. "Having been at Conway Christian for 13 years, I can confidently say that this school has been integral in my intellectual and spiritual development."


Comments from other students involved in the play:

Dillon Davis – A senior, he is a songwriter this year. "It's fun to do something that doesn't involve actual schoolwork with my classmates as well as other grades. I've enjoyed getting to write and record original music."
Haydon King – A junior, he is Captain Bill Bones. He enjoys most the bond between actors. "The play gets better and better each year and you absolutely have to come watch this year because it is going to be the perfect blend between suspense and comedy."
Aaron Martin – A senior, he is cast as Captain Flint and said he stepped out of his comfort zone to participate. He has high praise for his school and Shelton. "Conway Christian is a wonderful school. Mrs. Shelton is an amazing teacher and a great play director."
Rachel Poppe – A senior, this is her first year in drama and she has been cast in the Lady Pirate Ensemble. "I just enjoy being involved and included in a large group of girls where we can all just have fun and bond."
Haley Shourd – A freshman, this is her first CCS play. She said the play is full of exciting dances and several great pirate scenes. "It is very comical even though the overall plot is serious."
Stormy Stacks – A senior, she will play a lady pirate this year. "You really gain a lot of memories that stay with you and an appreciation for theater."
Shelton is assisted by CCS graduate Shandi Shelton, who now teaches English at the school and is serving as assistant play director. "She is a great asset," said Laura Shelton.
"I love working with so many diverse students from many grades and who have many interests. We have 90-plus high school students who are so fun and talented," said Shandi Shelton. "The students really do everything for the play. They design the set and costumes, gather props, run lights and sound, mix the music, act, create choreography, etc."

In recognition of her hard work, the students have presented Laura Shelton with a special gift after each performance – a live animal. Among the gifts, she was presented two ducks – named Troy and Gabriella for characters in "High School Musical." A chicken named for a character in "Much Ado" and two rabbits named Hank and Hickory for characters in "Wizard of Oz" have also been given to her.

"They are always named after characters in the play," she said, adding that she is uncertain what might be headed her way but students have had fun with the word "llama," which rhymes with drama.

Senior Rachel Ledbetter, who has been cast as a lady pirate, sums up the play experience – "The CCS play is a great experience. It is a great way to see a student body working together and having fun while doing it."