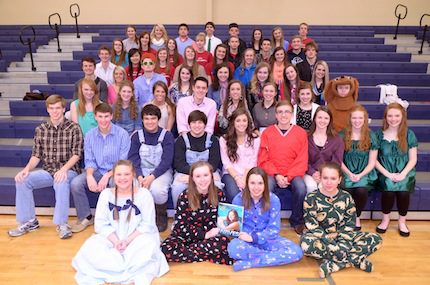 03 Mar 2013

CCS plans 'Cheaper by the Dozen'

Posted at 9:58 PMh

in

News

by Paige Turner


Conway Christian School will perform its annual spring play, a remake of the original "Cheaper by the Dozen," with showings at 1 and 7 p.m. on Thursday, March 14, in the Burgess Auditorium at Central Baptist College.

The production is $5 at the door and is open to the public.


Laura Shelton, Conway Christian drama director, says the school began preparing for the play in early October. Since then, scripts have been ordered, a cast has been selected and rehearsals have begun.


"Earlier in the year we started debating on what the play will be," Shelton said. "An overwhelming majority of the students wanted 'Cheaper by the Dozen'. Our first rehearsals began in December. Since January we rehearse three nights a week and every Saturday afternoon."


Shelton said the overall message of the play will tie into the themed scripture, Matthew 6:21, which emphasizes the importance of putting your heart into what you love most. The original story, written by Frank B. Gilbreth in 1948, is centered on the main character's life growing up as part of a large family. Ultimately, the tale stresses the importance of family and love, which Conway Christian students liked most about the story.


"We hope that the audience takes away with them the understanding of how important family is and allows them to reflect on how they truly spend their time," Shelton said.


More than three-fourths of the student body participates in some way in the school's production, totaling 65 students, according to Shelton. While some students may play roles on-stage, other students serve in backstage, lighting and production design positions.


"It's a lot of fun," Shelton said. "It really is a time when the whole school comes together. It's a big unifying event when the students get to laugh, let go and bond with people they would not have bonded with before."


This year, a "dinner and a show" ticket for $10 will be sold that includes a 5 p.m. prepared dinner and admission to the 7 p.m. show. Proceeds from the tickets sold will benefit the Fine Arts Council, which funds the Conway Christian School's drama program.


This year's play marks the sixth annual spring play at Conway Christian. Shelton says that with each year the productions improve and students commit more and more to their success. Shelton says she is excited for this year's production and that the audience is in for a treat.


"I think this play has a good moral lesson about family, purpose and togetherness," Shelton said. "This production is a very well-written, humorous and poignant piece of work. It's going to be a great, fun play."


Sidney Meriweather is the stage manager and Autumn Jones is the assistant stage manager.


Cast members include:


Narrator – Sarah Roberson.
Mother – Shelby Shelton.
Father – Jacob Clanton.
Rachel – Kimmy Hays.
Anna – Jessa Wilson.
Trey – Will Henley.
Dan – Jonathan Antonio.
Ben – Brent Clay.
Jerry – Taylor Gasaway.
Sally – Andrea Howell.
Callie – Katie Jo Henley.
Lauren – Taylor Williams.
Other Children – Sarah Guinee, Julianne Merguie, Sarah Shelton.
Mrs. Fitz – Whitley Wooten.
Dr. Burton – Luke Hogan.
Joe Scales – Austin Ellis.
Miss Brill – Emily Hill.
Eric – Drew Dodge.
Dog – Ross Minner.
Students – Hailey Perritt, Gracie Beckman, Morgan May, Saige Wood, Allison Lea, Shelby Daniel, Matt Austin, Brandon Helms, Ancil Lea, Tanner Stevenson, Luke Beckman, Griffin Guinn, Andrew Dather, Ginny Mode, Mandi Shelton, Audra Staley, Hannah Hitchcox, Sarah Nekonchuk, Kaleigh Cochran, Mallory Bryant and Haley Carter.