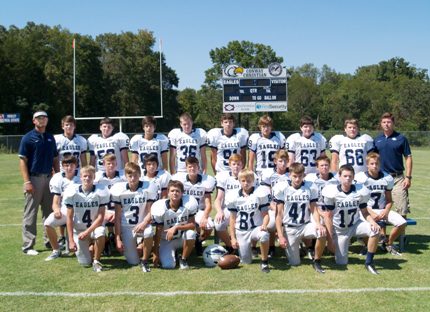 06 Nov 2013

CCS Junior High wins conference

The Conway Christian Junior High Eagles are 5-2A Conference Champions for the second time in three years.

The CCS Eagles finished the season with an overall record of 7-1 and 6-1 in conference with the only loss to Bigelow early in the season. After the loss to Bigelow the Eagles finished the remainder of the season undefeated with key wins over Mount Ida, Quitman and Magnet Cove.


"This shows well for the future and strength of our program," said Coach Andrew Roberson.


The Eagles were led by a strong group of freshmen. The offense was led by a strong core of skill positions and they executed well all season. The offensive line played extremely well all season even though they always gave up size and strength. The Eagles offense averaged 29.25 points per game.


The defense was anchored by a strong group of defensive lineman and solid outside and inside linebacker play. The secondary for the defense was always there to make plays when the opposing team went to their air attack. When the other team took the field on offense they were going against a team that had 15 takeaways this season. The defense only allowed 11.5 points per game.
Special teams is not really a huge part of the game for junior high football but the Eagles were able to recover 10 onside kicks this year.

"This football team was never the biggest or strongest on the field but they were always the team that played sacrificially for the sake of their brothers beside them on the field. When you have a sense of selflessness on a football team, great things happen and the boys were able to earn the conference championship this season," said Roberson.

The Eagles look to prepare for the next season by hitting the weight room with a sense of urgency. Statistics from the CCS Jr. High season will be able to view on the Conway Christian Sports website – conwaychristiansports.com – on Friday, Nov. 15.