07 Dec 2022

CBC's Fall sports wrap up

CONWAY — With the final academic awards being announced last week, the fall sports season for the Central Baptist College Mustang soccer, volleyball and cross country teams came to an end. Every team had at least one athlete recognized on an all-academic team of some sort, and both soccer teams plus cross country competed for an American Midwest Conference championship.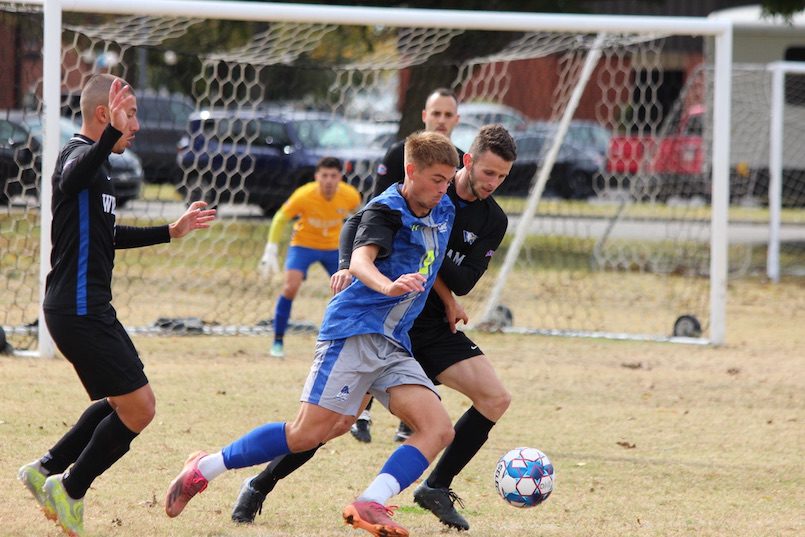 Cross Country came to an end on Nov. 4 at the American Midwest Conference championship, with the men's team placing sixth and the women's team placing seventh in the Championship. Jadon Price, Isaiah Stiger and Josh Brown all earned All-Academic Team recognition from the AMC with Price and Stiger additionally receiving Scholar Athlete recognition from the NAIA.
Volleyball season ended Nov. 4 at Harris-Stowe State with CBC putting a wrap on a 4-18 season. Two Mustangs, Mikayla Lawrence and Madeline Freeman both earned honorable mention honors from the AMC while Lawrence and Molly Murphy both continued to move up in the record books in digs and assists, respectively. Lawrence also earned Academic All-AMC honors along with Kailee Walker, Kylah Shumate and Sheridan Rogers.
Women's soccer season also ended on Nov. 4 at Harris-Stowe State in the American Midwest Conference quarterfinals. CBC finished 6-10-2 on the season and received an All-Tournament Team recognition from Vitoria Loiola, plus earned honorable mention selections from Bayleigh Williams, Jayme Selph, Lexie Sengmanivong and Amanda Parreiras while Selph, Erica Hawkins, Julissa Arevalo, Isabelle Pietrangelo and Marlee Lamoreaux all earned All-Academic recognition from the NAIA and AMC with Williams, Parreiras, Bailey Walerczyk, Samara Hernandez and Josie Gelsthorpe joining them on the AMC All-Academic Team.
Men's soccer season came to an end on Nov. 5 at Williams Baptist in the AMC quarterfinals, wrapping up an 8-8-3 season for the Mustangs. Daniel Pinkney earned All-Tournament Team honors and was also selected honorable mention for the season, along with Callum Bisset, Daniel Mondragon and Manny Almaraz. Bisset anchored the All-Academic Team selections, earning NAIA and AMC recognition, along with Andrea Migliozzi, Okikiola Ojeniyi, Ethan Urban and Chris Mendoza, while Jesus Avila, Jose Simon-Nieves, Almaraz, Mario Ceballos and Michael Settle joined them on the All-Academic Team.