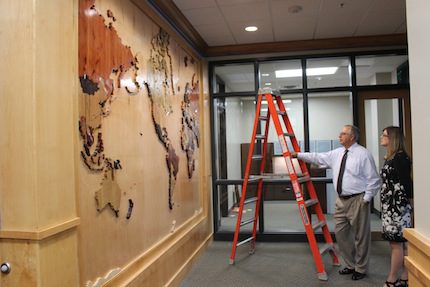 21 Jul

CBC to move into new academic building

by Sonja J. Keith


Central Baptist College will soon move in to a new academic building on campus.


Crews were busy with finishing touches last week on the 38,000-square-foot, three-story structure. Faculty and staff are expected to begin moving their offices this week. Registration for the fall semester is scheduled in the new building Thursday, Aug. 2.

"For me, it's been a pleasant and exciting process," said CBC President Terry Kimbrow. "It has created so much buzz and excitement."


Sancy Faulk, vice president for advancement, said it has been fun to watch the students and their excitement for the project, noting that they have been involved since the early stages of planning.


"They were involved in the vision from the beginning," Kimbrow said. "They have ownership in this building and they can't wait."


The building bears the name of David T. Watkins, who recently retired as senior pastor of the First Baptist Church in Magnolia after 23 years of service. The naming of the building came as a result of a lead contribution to the Vision 2020: A Miracle in the Making campaign made by Max and Debbie Story, longtime members of First Baptist and close friends of Watkins.


Vision 2020 is a plan to complete 10 major construction projects in 10 years to accommodate a student enrollment of 2020. A 10-year master plan completed by Sowell Architects of Conway is guiding the projected expansion. The new academic building is the first major project in the plan.


The ground floor houses offices that directly serve students in addition to administrative offices. The Bible and Missions departments are on the second floor along with a 100-plus seat lecture hall, conference rooms and classrooms. The third floor is dedicated exclusively to classrooms.


The open house for the new building is scheduled 10 a.m. Friday, Sept. 14.


Expansion of the library on campus will begin after the offices in that building have been relocated to the David T. Watkins Building.


Kimbrow and Faulk both acknowledged the support that CBC has received from the Conway community in making the fundraising efforts for the building a success. "The Conway campaign is what really helped kick this off," Kimbrow said.


They also recognized the support of the CBC Board of Trustees as well as faculty and staff. "What is so neat is so many different constituent groups are involved and have a stake in it," Faulk said.