09 Mar 2022

CBC sweeps University of the Ozarks to get back to .500

Conway — Returning home for the first time since Feb. 19, Central Baptist College softball hosted the Eagles of the University of the Ozarks. CBC (9-9) earned a sweep, pounding out 29 hits and 20 runs in a sweep of U of O (1-11) by scores of 7-4 and 13-5.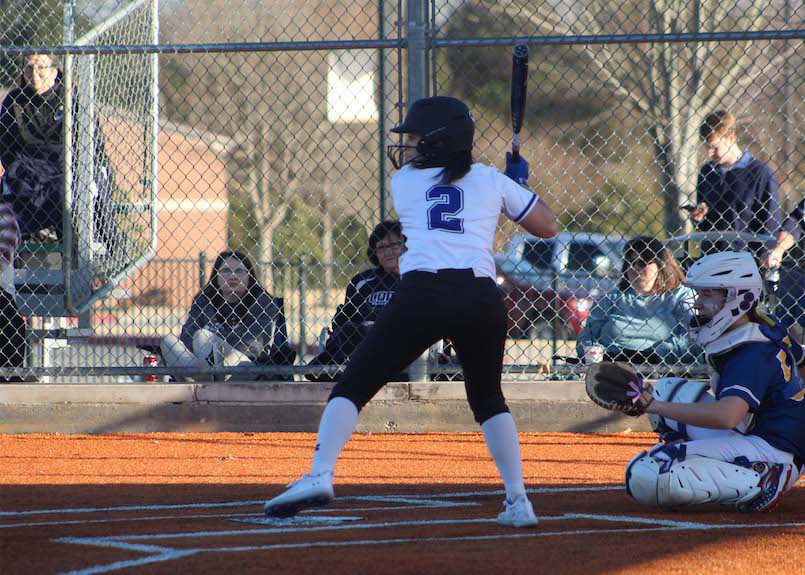 In addition to the 20 runs and 29 hits, CBC also hit three home runs, two in game one and one in game two. The Mustangs also had four multi-run innings in the doubleheader.
GAME ONE – CBC 7, U OF O 4
The Mustangs got the scoring started early in game one, plating two in the first inning on a double by Savannah Sanford. Starter Hannah Work kept Ozarks off the board as well in the second and CBC added five in the bottom half to make it 7-0 on a two-run double by Caroline Byers, a two-run home run by Averie Ayers and a solo shot by Kirstie Blackwood. Work would run into trouble in the third and would be relieved by Ysabella Esquivel, who got out of the jam after four runs had scored. The rest of the game was quiet, with neither team able to push across a run. Esquivel allowed the first two batters to reach in the seventh, but got out of it to keep Ozarks at bay. Work pitched 2.1 innings allowing three hits and four runs with five walks and two Ks. Esquivel got the win, allowing two hits and issuing three walks while striking out three in 4.2 innings of scoreless relief.
GAME TWO – CBC 13, U OF O 5 (SIX INNINGS)
Ozarks took a quick 2-0 lead in the first two innings of game two. A Jordyn Frederic single cut the deficit to 2-1 in the bottom of the second before Ozarks added three in the third to take a 5-1 lead. In the fourth, the Mustangs began to chip away at the lead, adding three runs on a double by Tobi Finley and a fly ball to left that was misplayed by the left fielder that scored two runs to make it 5-4. In the bottom of the fifth, Madi Spears tied the score with an RBI single and eight runs would come across in the sixth to end the game. Frederic led off the inning with a single, stole third and scored on a single by Esquivel. Following a single by Lauren Anderson to put two runners on base, Sanford cleared the bases with a three-run home run to make it 9-5. Blackwood would walk following a pitching change and the bases would fill up after singles by Madi Spears and Mollie Johnson. A single by Tobi Finley two batters later brough home two more runs to make it 11-5 and Frederic ended the game with a double. Emily Cole stated and went 2.2 innings, allowing nine hits and four runs (three earned) with a walk and five strikeouts. Ayers earned the win in relief, allowing no hits in 3.1 innings of relief, walking one and striking out three.
 UP NEXT
CBC is back on the road today when they head to Texarkana for a meeting with Texas A&M-Texarkana. First pitch is scheduled for 2 p.m.