09 Feb 2022

CBC sweeps season series from Lyon in overtime

CONWAY — Beginning a stretch of four straight American Midwest Conference games at Reddin Fieldhouse Tuesday night, Central Baptist College men's basketball hosted the Scots of Lyon College. In a game that featured 13 ties and 16 lead changes, CBC (11-13, 7-5 AMC) finally won out, going a perfect 5-5 from the floor in overtime to beat Lyon (8-17, 3-10 AMC) 84-78 in the extra period.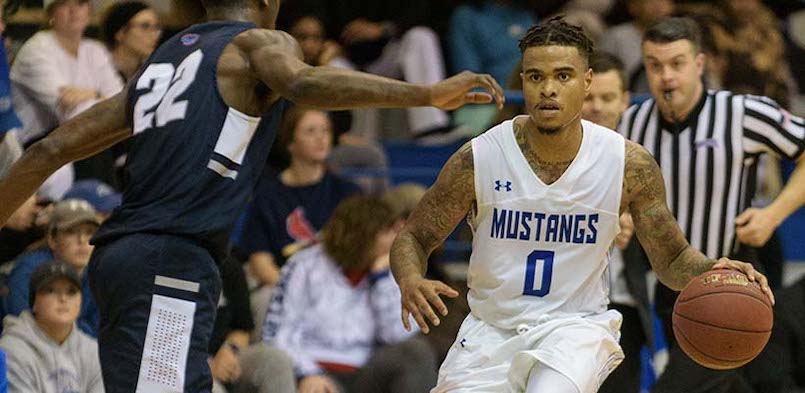 Jordan Parker led the way in scoring with 26 points while James Moore nearly had a triple-double with 18 points, 13 rebounds and a single-game program record nine blocked shots and Jalen Adams chipped in with 17 off the bench. CBC shot 50 percent from the field for the game and dominated points in the paint, outscoring the Scots 50-30 in that area.
Game flow
Neither team led by more than six in the first half and Lyon would beat the buzzer with a layup to take the game into halftime tied at 39. The second half was nearly the same story as neither team led by more than six. The Mustangs held a 69-66 lead with 22 seconds left when Lyon made a three to tie it. Blake Bradshaw had a good look at a jumper to beat the regulation buzzer, but the shot went long and the Mustangs headed to overtime for just the second time this season. In the extra frame, Moore started the scoring with a jumper in the lane, followed by a Parker layup, a jumper from Lyon and a Parker dunk to make it 75-71. Following a Lyon split at the free throw line, Brevin Brimble made his lone three of the night to stretch the lead to 78-72, and following a steal, Moore dunked home the dagger to put the Mustangs up eight with 1:55 in the extra period. CBC would make four free throws from there to salt the game away.
Game notes
CBC improved to 14-17 all-time against the Scots
The overtime win moved CBC to 1-1 in the extra frame this season 
The Mustangs are 3-1 this season when the score is tied at halftime
The 15 points in overtime were the fourth most in a single overtime game ever
Moore's double-double was the second of his career and his nine blocked shots broke the previous record of seven held by Zach Hudson
The Mustangs now have 90 blocks on the season with 12 tonight, the sixth highest total in a season ever
Up next
CBC welcomes another AMC opponent into Reddin Fieldhouse tonight when the Owls of William Woods come to visit. Tipoff is scheduled for 7:30 p.m.