30 Nov 2022

CBC sweeps Bacone

Muskogee, Okla. – Playing on the road for the fifth time in six games this season, Central Baptist College women's basketball took on the Warriors of Bacone Nov. 27 at the Muskogee Convention Center. CBC (3-2) used a strong offensive third quarter to pull away from Bacone (1-7), winning 58-35 to sweep the season from the Warriors.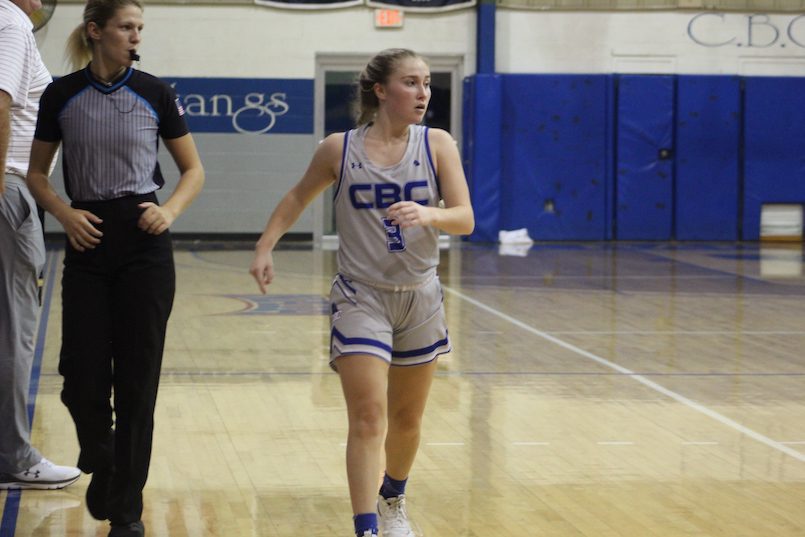 Lydia York led three Lady Mustangs in double figures scoring with 13 points while Rhys Anderson chipped in 11 and Diana Rivera had 10. CBC dominated on the glass, grabbing 46 rebounds (11 each from Caroline Citty and Olivia Lambrigtsen) to Bacone's 28.
GAME FLOW
Bacone scored the first two baskets of the game before Tamara Christmas finally broke through for the Lady Mustangs with 6:06 left in the first quarter to make it 4-2. After Bacone went on a 7-0 run to stretch the deficit to 11-2, CBC closed the quarter on a 6-0 run thanks to baskets from Kristan Hargrove and a pair of buckets from Diana Rivera to make it 11-8 after one. The run would continue into the second quarter as CBC would grab a 14-11 lead thanks to baskets from Rivera, Citty and York. Another run gave Bacone a 15-14 lead before a pair of free throws from Rivera made it 16-15. Another 4-0 run from Bacone gave them a 19-16 lead with 1:31 left before Anderson converted a three-point play to tie the game then Maele Van Houtert made a jumper four seconds before halftime to give CBC a 21-19 lead at the break.
York began the third quarter with a three to stretch the Lady Mustang lead to five, and following a Bacone layup, Anderson hit a three to make it 27-21 with 8:48 left in the third and the Lady Mustangs never let Bacone get closer than four the rest of the game, outscoring them 24-9 in the third quarter and 13-7 in the fourth to close out the contest.