22 Jun

CBC spring sports wrap-up

CONWAY — With all the postseason awards now announced, it's time for the 2022 spring sports season wrap up. Baseball, softball, golf and outdoor track & field all had successful seasons on the field and in the classroom.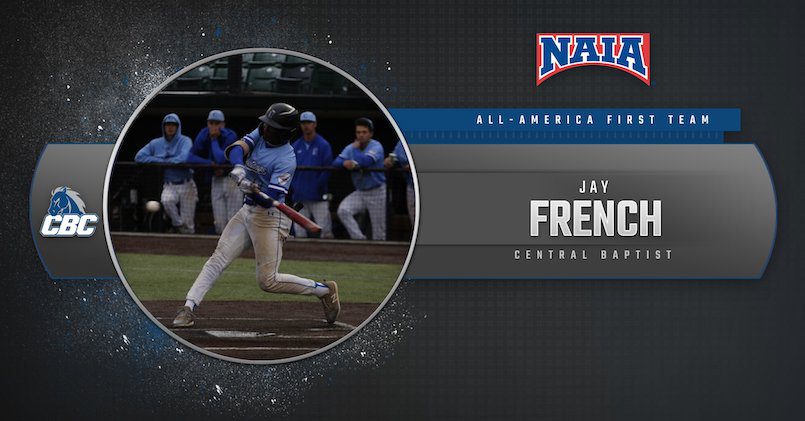 Baseball finished the 2022 season 27-28 with a trip to the American Midwest Conference semifinals after earning the #5 seed in the AMC tournament. Jay French had a fantastic season, earning both AMC Player of the Year and first-team honors as well as being named an NAIA First-Team All-American after leading the AMC in batting average, stolen bases, runs scored and hits while also setting or breaking eight new single-game, single-season or career records this past year. Seven Mustangs earned AMC all-conference honors, including first-team for both Austin Teal and Ruben Hernandez and Freshman of the Year honors for Logan Easterling, who also earned a second-team selection along with Garon Johnson and Wille Baez. Slayton Holland was the lone Mustang to earn a Gold Glove as well. 18 baseball players also earned all-academic team selection.
Softball went 25-20 this season and finished third in the AMC. The Mustangs went 1-2 in the AMC tournament, but had one of the highlights of the season in their lone AMC tournament win, with Averie Ayers throwing a no-hitter, the first solo no-hitter in six years. Ayers, along with Savannah Sanford and Katie Smith earned first-team honors from the AMC while Lauren Anderson and Kirstie Blackwood earned second-team selections. Sanford was also a finalist for the Schutt Sports NFCA NAIA Freshman of the Year and an NFCA first-team All-Region selection. 23 softball players earned all-academic team selection as well.
Men's golf had three selected to the AMC All-Academic team after finishing six in the AMC Championship. Surapart Pareepart was named the Newcomer of the Year as well in the conference.
Women's Golf finished third at the AMC Championship and had several awards. Alyssa Hagewood was named the newcomer of the year and earned honorable mention honors and Keeley Bulza joined her on the honorable mention team. All four women's golfers earned selection to the AMC All-Academic Team.
Track & Field ended up finishing eight on the men's side and sixth on the women's side at the AMC Championships. Josh Brown highlighted the men's performances, earning a second-place finish in the 110-meter hurdles while Ally Swaim competed in four events, winning the 100-meter hurdles again and finishing second in the 200-meter race to earn Outstanding Women's Track Athlete of the Year. She also earned another trip to the NAIA National Championship in Gulf Shores, Ala after qualifying with a 'B' standard time.