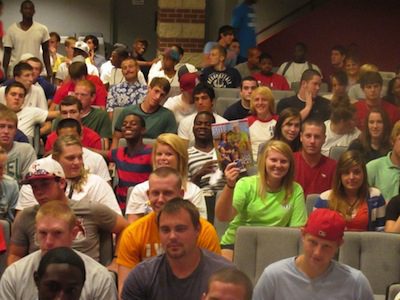 13 Sep

CBC reaches record enrollment number

For the first time in the history of Central Baptist College, enrollment has topped the 850 mark. According to a report released Friday by the registrar office, overall fall enrollment officially closed at 858, up 116 students (a 16 percent increase) over the fall 2010 enrollment of 742.


Final enrollment figures include a 19 percent increase in traditional student enrollment with 558 students and 300 students in the PACE (Professional Adult College Education) and Online degree programs which is a 10 percent increase.

"This is our sixth consecutive year to post a record fall enrollment," said CBC President Terry Kimbrow. "This kind of growth brings numerous challenges — housing, parking and financial resources to mention a few. But, I welcome these problems and, in fact, have anticipated them."

Vision 2020: A Miracle in the Making is a 10-year master plan that is guiding future growth at the institution. The plan is based on a future enrollment of 2,020 students and includes 10 major construction projects in the next 10 years.


Construction on a new $6.2 million Signature Academic Building is under way and is expected to be completed in time for the 2012 fall semester. The library renovation and expansion will follow along with new student housing.


Central Baptist College announced in July that it had launched two fully online degree programs starting in the fall 2011. The programs are accredited through The Higher Learning Commission of the North Central Association of Colleges and Schools.


Baccalaureate programs have expanded to more than 30 programs now being offered and athletic programs continue to be added which include 12 intercollegiate sports teams that compete in the Midlands Conference of the NAIA.


"I am very pleased to see enrollment exceed 850 for the first time in the history of the institution," Kimbrow said. "We are well on our way to reaching our goal of 2020 students by the year 2020."


For information about the college, visit cbc.edu.