20 Jan 2021

CBC pushes past William Moods for third AMC win

Looking to carry momentum from a Jan. 12, 25-point win, Central Baptist College (CBC) men's basketball hosted the Owls of William Woods University on Jan. 14 in American Midwest Conference play.

CBC (7-3, 3-0 AMC) raced out to a 40-25 halftime lead and held on in the second half to defeat WWU (2-4, 2-2 AMC) 66-57.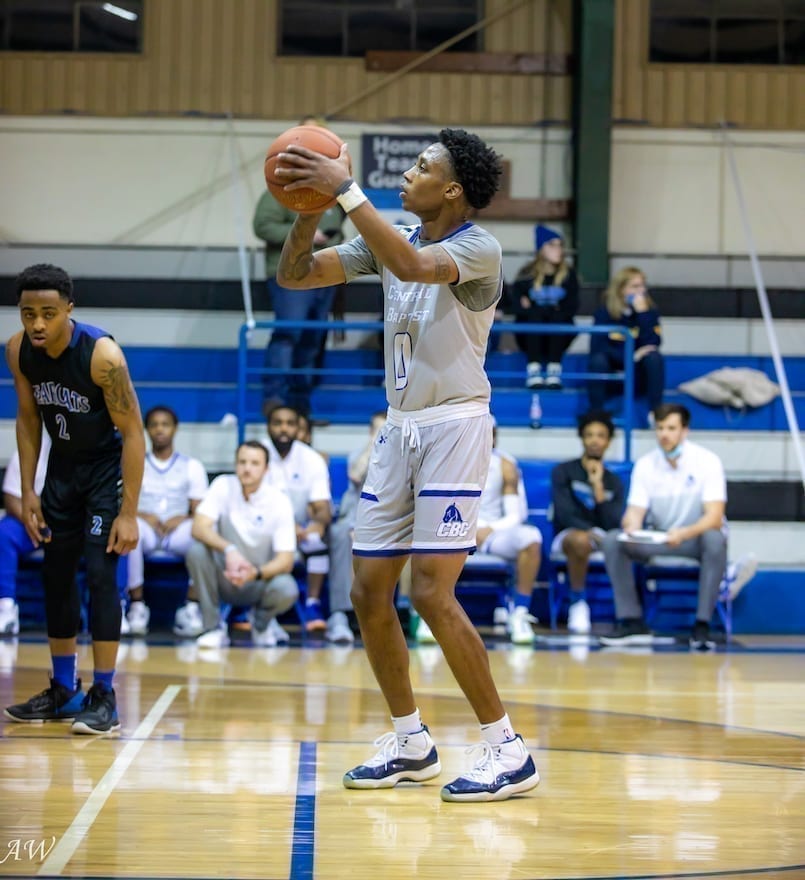 TaJuan Johnson and Tedrick Wolfe were the co-scoring leaders for the Mustangs, each posting 14 points. Zach Hudson added 11 and Brevin Brimble added 10 off the bench. Johnson also chipped in with a team-high of seven rebounds (also tied with Wolfe) and handed out a season-best seven assists. CBC won the game with free throw shooting and holding onto the basketball. The Mustangs were 18-22 at the free throw line (82 percent) and committed just 10 turnovers while William Woods went 5-6 at the line and committed 18 turnovers.
Neither team scored for the first two minutes of the game before Makenzie Fessler, who had a game-high 17 points for the Owls, opened the scoring with a bucket. Less than a minute later, Wolfe tied the game and followed that with another basket with 16:35 left in the first half, which gave CBC a 4-2 lead. The Owls would get within one on three separate occasions, before CBC closed the final 5:25 of the half on a 16-2 run to carry a lead into the locker room.
The Owls came out of halftime as the aggressor, cutting the lead to 53-50 with 7:29 left before Brimble made the play of the game. Johnson turned the ball over and it looked like the Owls would be able to cut the lead to one, but Brimble hustled down the floor to knock the ball away from the Woods player and keep the lead at three, which is as close as WWU would get the rest of the game.
Recap submitted by Erik Holth, CBC's Sports Information Director