08 Dec

CBC opens AMC play with strong win over Williams Baptist

Conway – Opening their American Midwest Conference title defense tonight at A.R. Reddin Fieldhouse, Central Baptist College men's basketball hosted the Eagles of Williams Baptist University on Dec. 2. CBC (3-7, 1-0 AMC) was shooting hot all night long and played great defense, holding the Eagles (6-3, 0-1 AMC) to under 40 percent shooting in a six-point win.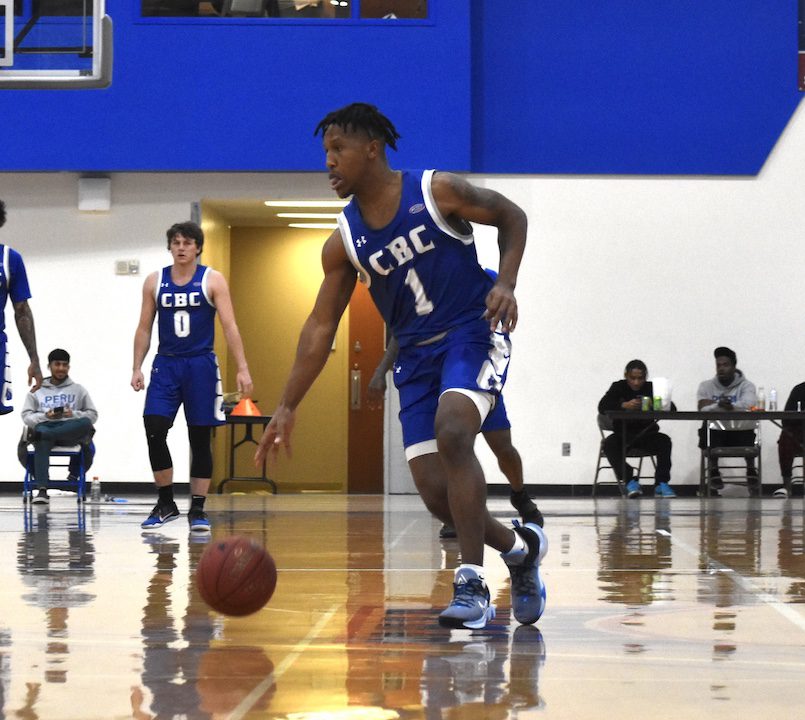 Blake Bradshaw had a career night, setting new highs in made field goals, points and assists. Kelvin Robinson and Justin Van Pelt were also in double figures as CBC shot over 50 percent in both halves to secure the win.
GAME FLOW
WBU opened the scoring four seconds in and had three separate leads of four points in the first half. A Robinson jump shot with 14:03 left in the half gave CBC its first lead of the game at 12-11. The teams would trade baskets until the 8:44 mark of the half when a Robinson basket started a 9-0 run over the next 5:09 to give them their largest lead of the game at 29-20. WBU got hot at the end of the half, however, closing on an 11-2 run to send the game into halftime tied at 31-all.
The second started with a Bradshaw jumper, a layup by Williams Baptist and a dunk from Mayan Kiir, which gave CBC a 35-33 lead with 19:08 left in the game. WBU would tie the score two more times before a pair of free throws from Kiir with 17:11 left gave CBC a 39-37 lead that they would never relinquish. The lead would stretch to nine again, thanks to a three from Bryan Maxey with 9:30 left and would go back to nine with 7:25 left at 64-55. The lead finally grew to double figures, 73-63, with 1:06 left, and the Mustangs salted the game away from there.
GAME NOTES
Bradshaw finished with 20 points, including 12 in the second half, nine rebounds and six assists on 10-13 from the field
Robinson pitched in with 19 points
Van Pelt had 10
The Mustangs shot 56 percent from the field for the game and held WBU to 37 percent from the floor
The win for CBC was the 17th in 30 meetings between the schools dating back to 2003