31 May 2023

CBC offers the season's recap

CONWAY – With all academic awards announced for the 2023 spring season, let's take a look back at the Spring sports season for the Central Baptist College Mustangs. CBC ended up finishing fifth in the American Midwest Conference President's Cup standings with their success during the season.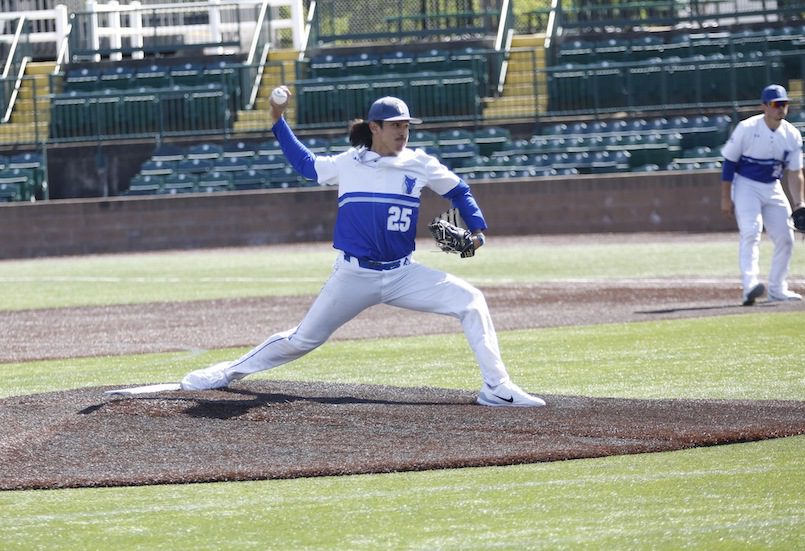 Men's golf was the first team to wrap up the spring season, competing in the AMC Championship on April 24-25. CBC finished third and had two golfers finish inside the top five individually. Jakub Slapal and Emmanuel LaBeur both earned Academic All-AMC honors with Slapal earning first-team All-AMC and Daktronics NAIA Scholar Athlete honors as well.
Women's golf wrapped up their season on May 1-2 at the AMC Championship. CBC placed seventh in the tournament, but Alyssa Hagewood finished third individually and earned first-team All-AMC honors in the process. Hagewood, Abby Kirby and Laney Crutchfield were all named AMC All-Academic Team selections while Hagewood and Kirby both earned Academic All-AMC honors.
CBC Softball finished the season 34-18 and earned the number three seed in the AMC Championship. The Mustangs went 2-2 in the tournament with wins over Williams Baptist and William Woods. Lauren Anderson and Averie Ayers earned All-Tournament team selections while Kori Truelove earned AMC Freshman of the Year honors with Ayers, Allison Wagle and Katie Smith were all selected to the first team and Jordyn Frederic and Hannah Work earned second team honors. 26 players earned All-Academic Team honors from the AMC with Anderson, Ayers, Heather Hoffman, Smith and Frederic all earning All-District selections from College Sports Communicators and those five plus Caroline Byers, Alex Jeter and Madalyn Tubbs earning Daktronics Scholar Athlete honors from the NAIA.
Baseball finished third in the AMC tournament this season, beating Hannibal-LaGrange, William Woods, Williams Baptist and Lyon in the tournament, finishing the season 25-28. 19 players earned All-Academic team selections from the AMC while Luke McBride was selected to the second team while earning a gold glove alongside teammates Danilo Taborda and Steven Stewart. Nick Aide and Austin LeJeune earned All-Tournament team honors with LeJeune, Ruben Hernandez, Austin Teal, Kyle Bass and A.J. Serrano earning Academic All-District honors from CSC and those five plus Caleb Sollars, Cameron Harden, Fred Marsh and Landon Hitchcock earning NAIA Daktronics Scholar Athlete honors. 
Track and field was the final team to wrap up their season on May 4 & 5 at the AMC Championships. Josh Brown captured the lone individual championship this season for the Mustangs, earning the gold medal in the 110-meter hurdles. Isaiah Stiger was named a Daktronics NAIA Scholar Athlete as well. Congratulations to the Mustangs on this fine spring season and stay tuned to social media and the web for upcoming fall schedules.