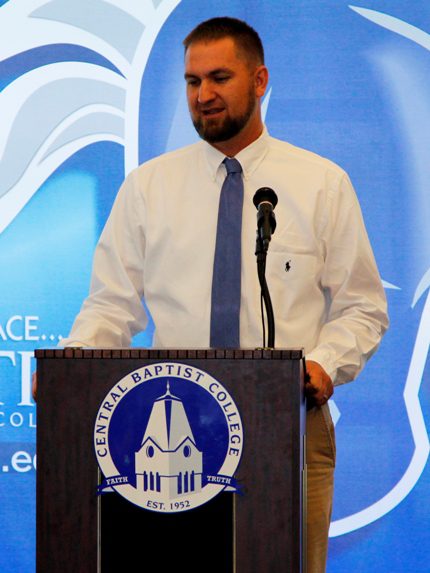 12 Jun 2013

CBC names baseball coach

Dr. Aaron Brister has accepted the position of head men's baseball coach and professor of kinesiology at Central Baptist College.

CBC Athletic Director Lyle Middleton made the announcement at a press conference on Monday, June 10.


Brister comes to CBC from Emmanuel College in Franklin Springs, Ga. He spent eight seasons with the Emmanuel Lions and ended the 2012 season ranked third in the nation. He has three consecutive years of posting 20-plus wins in a season and has taken the Lions to the NCCAA Regional Tournament and NCCAA World Series.


Brister is originally from Searcy. He was an honor student at Crowley Ridge College in Paragould, where he played both baseball and basketball. After finishing his associate of arts degree, he transferred to Harding University in Searcy to play baseball. Brister was an Academic All-American all four years of playing collegiate sports. He graduated Magna Cum Laude at Harding in 1996 with a major in kinesiology and a minor in psychology. In 2001, he completed his master of science education degree at Harding. He obtained his Ph.D. in kinesiology from the University of Arkansas in Fayetteville in 2004.


After turning down offers to play at the professional level, Brister answered the call to ministry. He became a youth minister and worship leader for seven years before becoming a collegiate head baseball coach and associate professor of kinesiology. He still serves as a licensed minister of the gospel and led worship at a local church in Georgia. He has a heart for ministry to his players and to the world. He is highly involved in yearly mission work in the states and abroad.


Brister and his wife, Billie Jean, have three children – Eden Jewell, Lily Grace and Isaiah Scott.