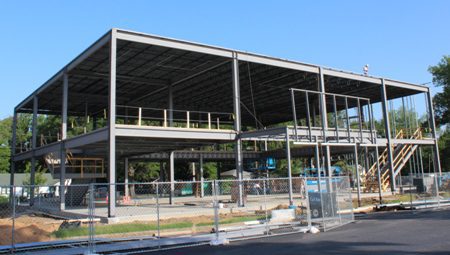 24 Jun

CBC library construction on track

Construction of the new library at Central Baptist College is on track and scheduled for completion by the end of the year.

According to Deanna Ott, director of public relations at CBC, the steel structure has been completed and workers have started the exterior phase which includes framing, sheathing, masonry and the roof. "These items are scheduled to be completed by end of July," she said.


Interior finishes will begin once the building is "in the dry."


"We are on track with the completion date the end of December."


Earlier this year, Central Baptist College announced that commitments to Vision 2020: A Miracle in the Making had topped the $10 million mark. Vision 2020 is a plan to complete 10 major construction projects over 10 years to accommodate a student enrollment of 2020 students. In mid-November, CBC received a $1.3 million gift which put the Vision 2020 total at $10,078,865.
A major benefit of the additional $1.3 million pledge was the opportunity for CBC to construct a new library facility instead of renovating the existing structure. A two-story, 16,000-square-foot building is being built on the site of the administration/library building which has been demolished.

The building will have library staff offices, a learning commons, 30-plus computer workstations, a multimedia classroom, a café with seating area, the Ronald V. Mitchell Archives, a science resource center, a music listening lab, media curriculum center, conference rooms, group and private study rooms and book stacks.

The mission statement of Central Baptist College calls for the integration of Christian faith and academic excellence . . . in a Christ-focused environment. "That, I believe, can only be accomplished as we continue to improve the campus learning environment," said CBC President Terry Kimbrow. "We are here to facilitate 'life change' in both the minds and hearts of our students. Vision 2020 is simply a plan to help us as we strive to accomplish our mission."

CBC launched Phase 1 of Vision 2020 in February 2011 with a $12 million goal to fund the three construction projects. The first project in Vision 2020 was the construction of the David T. Watkins Academic Building which was completed earlier this year. The Library Project, which is currently underway, is the second project, followed by the construction of a new residence hall.