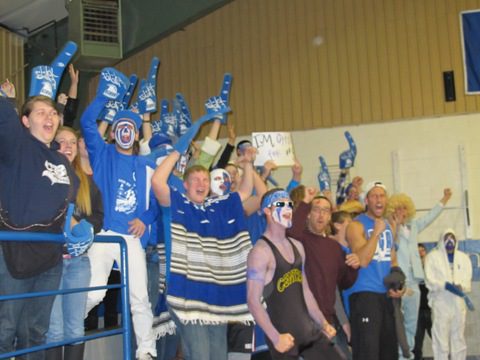 12 Oct 2011

CBC hosts Mustang Madness

Central Baptist College will officially kick off its fall sports programs with Mustang Madness on Friday and Saturday.

Mustang Madness is an event to showcase the CBC athletic programs and a fundraiser for the college's athletic teams.

Activities begin on Friday with a cookout and tailgate beginning at 5 p.m. The menu includes hot dogs, beans, potato salad, chips, s'mores and hot chocolate. The cost of the cookout is $7 per person with $2 going toward CBC athletics. The event will also include inflatables for kids and face painting. Reservations are requested if you plan to attend the cookout. (Please RSVP to Jessica Faulkner at 501.329.6872 ext. 172 or [email protected].)


Other Friday evening activities include a CBC volleyball match vs. Philander Smith at 4 p.m. in the A.R. Reddin Fieldhouse; at 5 p.m. tailgating and the CBC Harvest Festival will begin ($7 each); at 6:30 p.m. there will be an alumni softball game at the City of Colleges Park; at 7 p.m. a CBC wrestling team dual will take place in the fieldhouse; and at 9:30 p.m. Mustang Madness begins with an announcement of teams for Saturday's events, a basketball three point contest and a slam dunk contest in the fieldhouse.


Saturday activities include a Wrestling Appreciation Brunch for CBC wrestlers and their families beginning at 10 a.m.; at 10:30 a.m. a brunch will be served in the CBC Dining Hall ($4 each); at noon there will be a CBC women's soccer game vs. College of St. Mary at Centennial Soccer Park; at 2 p.m. there will be a Mustang men's soccer team game vs. Crowley's Ridge at Centennial Soccer Park; at 4 p.m. the Mustang men's baseball Blue vs. White game will be held at Conway Christian School; at 6 p.m. the Lady Mustangs Blue vs. White basketball game in A.R. Reddin Fieldhouse; and at 7:30 p.m. the Mustang men's basketball Blue vs. White game.


For more information or a detailed schedule visit www.cbc.edu/mustangmadnessweekend.