15 Feb 2023

CBC completes season with sweep

WALNUT RIDGE – Playing for the final time on the road during the regular season, Central Baptist College men's basketball was at the Southerland Mabee Center on Saturday for an American Midwest Conference clash with the Eagles of Williams Baptist University. CBC (18-9, 10-5 AMC) led by seven at the half and hung on to defeat WBU (14-9, 9-6 AMC), 81-80.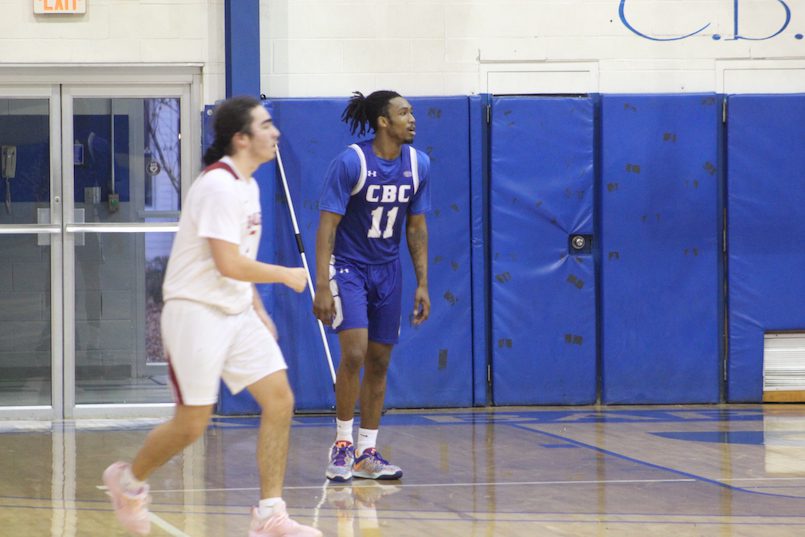 Jalen Adams led four Mustangs in double figures scoring with 16 points while TaJuan Johnson added 13 (and had a double-double with a career-high 14 rebounds) while Brevin Brimble chipped in 11 and Gabe Johnson added 10. The Mustangs outshot Williams Baptist 47 percent to 35 percent from the field, outrebounded them 44-39 and outscored them in the paint 38-30.
GAME FLOW
The game was back and forth early, with neither team leading by more than three until Adams hit a three with 15:03 left in the first to give CBC a 15-9 lead. The Eagles responded, however, going on a 9-0 run to take an 18-15 lead before a three from Brimble tied the score at 18 with 12:17 to play in the half. Gabe Johnson would give CBC the lead back with a layup before WBU hit a three to lead by one and Braylon Steen would then hit back-to-back layups to put CBC ahead 24-21. A WBU three tied the score at 24 and the teams would then trade free throws to tie the game at 26. The Mustangs would then go on a 7-1 run to lead 33-27 with 7:25 left in the half and they didn't allow the Eagles to get closer than four the rest of the half, taking a 48-41 lead into the locker room.
CBC kept WBU at bay for the entire second half and led 79-70 with 2:22 left before things got very tense for the Mustangs. WBU would score two threes and a layup to cut the lead to 79-78 with 18 seconds left. With 11 seconds to play, Gabe Johnson went to the free throw line and calmly knocked down a pair of free throws before WBU was fouled shooting a three pointer and made the first two free throws before missing the third to give CBC the win.
GAME NOTES
CBC is now 20-14 all-time against Williams Baptist and have won seven of the last nine meetings
Head coach Sam Kohnke won his 33rd game as the man in charge, passing Jason McGinty for fourth on the all-time list
Adams set a new record for career games played, playing in his 120th contest, breaking the record previously held by Ryan Barnes
With his 16-point performance, Adams now sits just five points shy of becoming the sixth player ever with 1,000 for his career
Adams made six field goals in the contest to move him into fifth place all-time in made field goals with 347
Brimble continued to climb the three point charts with 172 in his career, third most all-time, with Adams right behind him at 170
Brimble handed out three assists and is now in 10th in career assists by himself with 171
James Moore blocked five shots today to give him 103 for his career and make him just the second player ever with 100-or-more blocks (Michael Holder, 156)
Brimble made three steals tonight and is now just three shy of becoming the ninth player in program history with 100
Moore's five blocks marked the fifth time he has achieved that this season
CBC is now 15-4 when leading at halftime this season
The Mustangs have made 210 threes this season, tying them for 10th most in a single season
With 10 blocked shots total in the contest, the Mustangs have blocked at least 100 shots for the fourth straight season
With their 81 points, CBC crossed the 2,000 point barrier for the eighth straight season
TaJuan Johnson's double-double was the first of his career
UP NEXT
CBC gets a week to rest before they wrap up the regular season with homecoming on Saturday against Harris-Stowe. Tipoff is scheduled for 3 p.m.