15 Dec 2021

CBC beats Huston-Tillotson in their final 2021 road game

AUSTIN, Texas – Looking to rebound from a tough loss on Saturday at John Brown, Central Baptist College men's basketball took on the Rams of Huston-Tillotson University Tuesday, Dec. 14, in their final road game of the 2021 calendar year. CBC (5-8) led at halftime, but had to fight off an HTU (2-10) offensive show in the second half to hang on and win 75-72.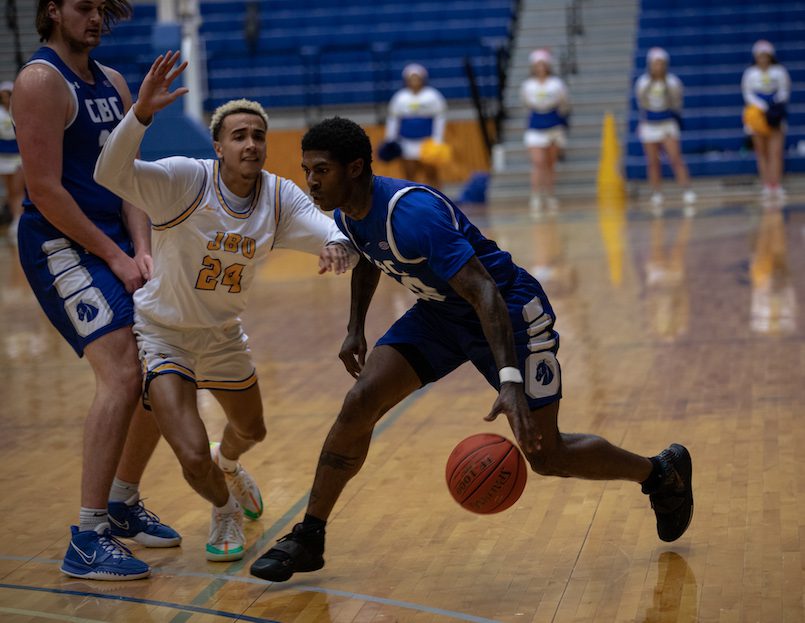 Kelvin Robinson led three Mustangs in double figures scoring on the afternoon. CBC kept the ball out of Ram hands regularly, committing a season-low eight turnovers in the contest.
GAME FLOW
The Mustangs jumped out to an early 5-0 lead thanks to a Blake Bradshaw jumper and a three from Hayden Peterson. After a pair of HTU baskets, Mayan Kiir hit a three to stretch the lead to 8-4. Following a Kiir layup, HTU went on an 8-0 run that was ended when Justin Van Pelt made a layup to tie the score at 12 with 8:51 left in the first half. The Rams wouldn't go away quietly though, retaking the lead 18-13 before a Robinson three cut the deficit to two. An HTU three stretched the deficit to 21-16 and Peterson hit another three to cut it to 21-19. Following a Van Pelt layup to tie the game, HTU took a short-lived lead before another Peterson three gave CBC a 24-23 lead with 6:57 left in the half. After HTU retook the lead on a three, Mayan Kiir started an 8-0 run with a layup that gave CBC a 32-26 lead with 4:27 left in the half. The Mustangs would stretch the lead to as many as nine before going into the locker room up 39-32.
CBC would hold the lead until the 4:57 mark in the second half when HTU retook the lead 65-63. The two teams would then trade the lead until HTU tied the game at 69 with 2:33 left. Robinson then took over, scoring the final six points for CBC on a jumper and four free throws to close out the win!
GAME NOTES
Robinson finished with 31 points, his second 30-point game this season, while also shooting every single free throw for CBC
Kiir had 13 points
Justin Van Pelt had 16 points off the bench and led the team in rebounds with nine
The Mustangs shot 51 percent from the field and made six of their 21 three-point attempts
CBC won the rebounding battle 37-24
The Mustangs committed a season-low eight turnovers and forced the Rams into 10
UP NEXT
CBC has 16 days off before their next game, which will be a rematch with Huston-Tillotson, this time at Reddin Fieldhouse at 5 p.m. on Dec. 30.