25 Jan 2023

CBC beats Cottey

CONWAY — Looking to snap a five-game losing streak in the American Midwest Conference, Central Baptist College women's basketball hosted the Comets of Cottey College on Jan. 21 at A.R. Reddin Fieldhouse. CBC (8-9, 3-9 AMC) overcame a four-point halftime deficit to beat Cottey (8-11, 4-8 AMC) 54-49.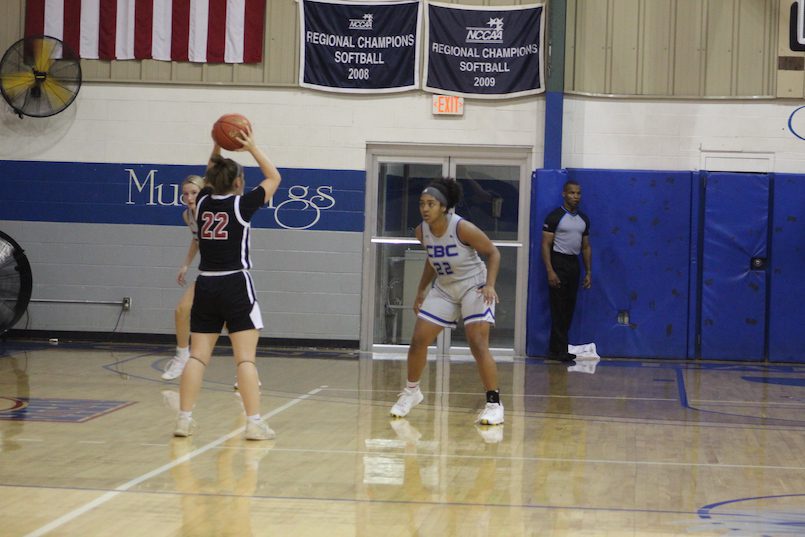 Diana Rivera led the way in scoring for CBC, posting a career-high 18 points while also grabbing 12 rebounds for the first double-double of her career. Caroline Citty also finished in double figures with 12 and Emma Bates added 10 off the bench. CBC was +11 at the free throw line in the game (20-9) and outrebounded Cottey 39-35.
GAME FLOW
Rivera opened the scoring for the game with a jumper 47 seconds into the contest and the Lady Mustangs led 2-0 until the 5:25 mark in the first quarter when Rhys Anderson cashed in a layup to make it 4-0. Cottey would then get a three-point play to cut the lead to 4-3 before a layup from Olivia Lambrigtsen made it 6-3 CBC. Cottey would tie the game at six on their next possession and a pair of Bates free throws with 2:53 left returned the lead to the Lady Mustangs 8-6. Cottey would take their first lead of the game on a three with 2:08 left in the first before a Lambrigtsen layup with 14 seconds left put CBC up 10-9 after one. The teams traded baskets to open the second quarter before a 4-0 run gave Cottey a 15-12 lead with 6:50 left in the second. The Lady Mustangs would get it to within one, but never retook the lead and went into halftime down 24-20.
CBC opened the second quarter on an 8-2 run, capped by a Rivera jumper with 5:42 left in the third to retake the lead at 28-26, The teams then traded ties and a pair of Rivera free throws with 3:47 left put CBC back in front 32-30. Another tie followed and a Lambrightsen free throw with 1:07 left in the quarter helped CBC take a 33-32 lead into the final period. The teams went back and forth in the fourth quarter, with no one leading by more than four. Cottey tied the game at 47 with 1:53 left before a three from Bates put CBC up 50-47 and helped them sprint away, as free throws from Citty and Bates gave CBC the winning margin.
TONIGHT
The Lady Mustangs head to St. Louis for a matchup tonight with Missouri Baptist. Tipoff from the Petty Student Resources Center will be at 5:30 p.m.