30 Nov 2022

CBC beats College of the Ozarks

CONWAY — Returning home after a two-game road trip, Central Baptist College men's basketball hosted the Bobcats of College of the Ozarks this afternoon in the renewal of an old Midlands Collegiate Athletic Conference rivalry inside A.R. Reddin Fieldhouse. CBC (5-3) never trailed, leading by 19 at the half and cruising to an 84-70 win over C of O (5-8) for their first win ever in 11 meetings against the Bobcats.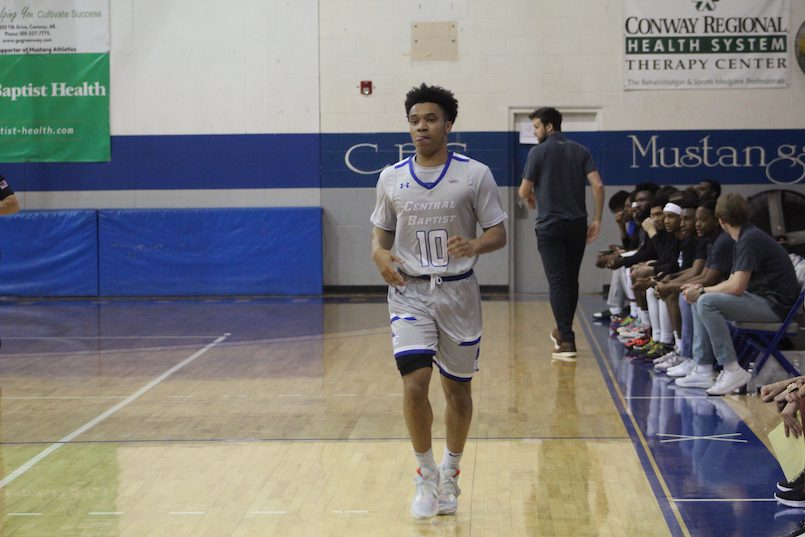 Brevin Brimble led four Mustangs in double figures scoring and James Moore chipped in with the fourth double-double of his career. The Mustangs dominated on the offensive end, outshooting C of O 52 percent to 45 percent from the field while also winning the rebounding (35-30) and turnover (12-16) battles as well.
GAME NOTES
This was the first meeting between the two programs since Feb. 10, 2015
CBC got their first win in the series in their 11th try
The Mustangs improved to 5-1 when leading at halftime this season and are now 162-37 all-time when leading at halftime
CBC led by as many as 28 at one point in the second half
The Mustangs made 11 or more threes for the fourth time this season
Brimble had 26 points tied a career-high with six made three for the fifth time
Moore had 12 points and 12 rebounds
Devin Foster posted a season-high 13 off the bench
Gabe Johnson finished with 11 points
The Mustangs held C of O to 36 percent shooting in the first half, including 1-11 from three
UP NEXT
CBC opens the home portion of their American Midwest Conference schedule tonight when they welcome the defending AMC tournament champions Missouri Baptist into Reddin Fieldhouse. Tipoff is slated for 7:30 p.m.