29 Jul 2020

CBC Alumni Spotlight: Bridget Jones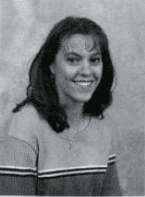 by Erik Holth
CBC Sports Information Director
In the latest installment of the Central Baptist College Alumni Spotlight, which details former athletes, the spotlight shines on the only female Hall of Fame inductee in the school's athletic history – Bridget "Branscum" Jones.
Jones was inducted into the CBC Athletics Hall of Fame with the first-ever class back in 2010. Jones was a member of the first women's basketball program at CBC, playing the 1997-98 and 1998-99 seasons. She was the first female athlete ever to earn All-America honors at CBC, earning third-team recognition from the National Junior College Athletic Association (NJCAA) in 1997-98.
After completing her time at CBC, Jones played basketball for two more seasons at Southern Arkansas University. She is currently is the head cross country coach and assistant varsity girls basketball coach at Baptist Prep Academy in Little Rock.
"I first heard about CBC through my aunt and uncle, who were both residence directors there," said Jones. "I had played basketball in high school and heard from my coach that CBC was starting a women's team with Mark Hamby as the coach. I went to a tryout, made the team and played for Coach Hamby and Coach Stain my two years."
Jones was part of a pair of very successful teams at CBC. In both of her years, the Lady Mustangs won the NJCAA Division III District G championship. "Playing at the national tournament both years was one of my fondest memories," added Jones. "We played the district tournament in Washington, DC., and I was the MVP. We followed that up with a trip to Corning, N.Y., both years. The second year, we won our first game, but lost to the eventual national champion (Anoka-Ramsey Community College) in the second round and finished fifth in the nation."
"When I was at CBC, I really learned about hard work and perseverance, especially in the classroom," said Jones, when asked what her most valuable lesson was. "I loved having the Christian influence on my life and I didn't realize that everyone around me was pouring into my life back then."
Jones' love of basketball was developed at CBC. "I fell in love with the game more in college. I use basketball now to influence the kids that I coach. I found God's purpose for me through basketball and discovered that I can show kids what God's purpose for them is as well."
Jones has fond memories past those of basketball at Central Baptist. "CBC gives you a small town feel and a Christian perspective in every aspect. You get the love that God shows us as a student. The years I spent at CBC were some of the best years of my life and I will never forget them!"
For more of the summer Alumni Spotlight series and top moments countdown, like Central Baptist College Athletics on Facebook and follow @gocbcmustangs on Twitter and Instagram.