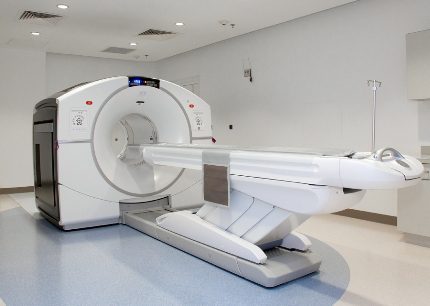 20 Feb

CARTI introduces new equipment

Cutting edge imaging equipment and technologies recently introduced at CARTI are designed to significantly improve physician diagnosis and staging of cancer, according to officials with the statewide network of cancer care facilities.


The Discovery MI, a new PET/CT system developed by GE Healthcare that just received US FDA clearance in October, was recently installed and unveiled at the CARTI Cancer Center in Little Rock.


"This is an exciting new advance for the future of cancer care," said Dr. David Hays, interventional radiologist at CARTI. "This system not only makes it easier to diagnose and stage disease as early as possible, but it also helps guide us in developing treatment strategies."


"Early detection has always been a prime component when it comes to improving survival rates," said Hays. "This technology not only improves our ability to recognize and identify cancers sooner, but the clarity of the imaging significantly impacts the precision of our treatment planning so that we can most effectively and aggressively target the area of concern."


Hays said the introduction of the Discovery MI at CARTI is part of the statewide healthcare network's ongoing mission of providing the highest quality of cancer treatment and compassionate patient care by making new, state of the art equipment and technologies available to physicians for their patients.


"When it comes to medicine, physicians are like highly skilled craftsmen," explained Hays. "Knowledge and expertise are certainly the foundation of our skills, but as any craftsman will tell you, the tools of his or her trade play a fundamental role in how capable they are when it comes to actually doing the job."


"Any tool or technology that can help us do our jobs more efficiently or more effectively gives us one step up on achieving an end result goal," said Hays. "And, when it comes to fighting cancer, every new tool available to assist physicians represents new hope for a cancer patient and his or her loved ones."


CARTI is an independent, nonprofit network of cancer care facilities with locations throughout Arkansas in Little Rock, North Little Rock, Benton, Clinton, Conway, El Dorado, Heber Springs, Mountain Home, Russellville, Searcy and Stuttgart.


For more information, visit CARTI.com.