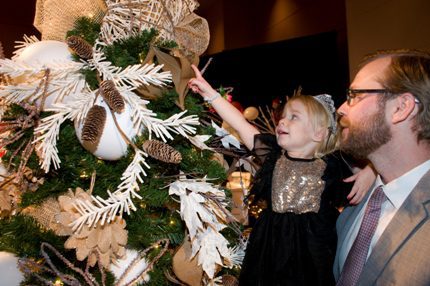 07 Nov 2016

CARTI announces plans for 40th Annual Festival of Trees

Posted at 11:37 AMh

in

News

Ticket sales are under way for the 40th annual CARTI Auxiliary Festival of Trees, a four-day holiday celebration and fundraiser benefiting CARTI cancer patients. The event is planned Wednesday, Nov. 16, through Saturday, Nov. 19, at the Statehouse Convention Center in Downtown Little Rock.


"Cirque du Festival" is the theme for the 40th anniversary celebration of the CARTI Auxiliary Festival of Trees, which is the umbrella title for a slate of four individual events all centered around seasonal celebrations benefiting the statewide network of cancer care facilities.


"We are having a lot of fun with the circus-inspired theme," says Michaela Johnson, CARTI event planner and volunteer coordinator. "I might even go so far as to say that our 40th anniversary Festival of Trees is shaping up to be 'the greatest show on Earth.'"


From the elegantly attired to the whimsically clever, a veritable "forest" of elaborately decorated trees once again serves as the focal point of the festival. Free general viewing, "Stroll Through the Forest," is scheduled for 1:30 to 4 p.m. on Friday, Nov. 18.


Official Festival of Trees events include:


● Sugar Plum Ball – Make memories as sweet as cotton candy with the hottest ticket in town at the Sugar Plum Ball. Your little princess will be the star attraction at this classic daddy-daughter date night featuring dining, dancing, tiaras, party favors and ballet dancers as you mix and mingle with Santa and Mrs. Claus, as well as the newly-crowned Mrs. Arkansas. (6 to 8:30 p.m. Wednesday, Nov. 16; tickets are $40 each.)


● Festival After Dark – High-flying fun and adventure await under the big top at Festival After Dark, where cool and casual meets hip and happening. When the light go down, you can clown around and enjoy live entertainment while being astonished and amazed by the tasty treats provided by 19 of Central Arkansas' most daring and delightful eateries. (7 p.m. Thursday, Nov. 17; tickets are $60.)


● Festival of Fashion – Let your imagination run wild at the Festival of Fashion as you experience the thrill and excitement of a professional runway show in the grand tradition of New York City' Fashion Week. Get an up-close look at the colorful clothing and sensational styles of 15 of Central Arkansas' most popular boutiques and join us as we honor Jennifer Day as the 2016 CARTI Style Icon. (5:30 p.m., doors open; 6:30 p.m., show; Friday, Nov. 18, tickets are $50 each.)


● Tux 'n Trees – All eyes are on the center ring at Tux 'n Trees as CARTI celebrates the 40th anniversary of one of Central Arkansas' premeir holiday events. Ring in the holiday season with fine dining and dancing to live entertainment as you participate in live and silent auctions and hear from keynote speaker Dr. Lawrence Mendelsohn about how your support benefits the cancer patients of Arkansas. (6 p.m. Saturday, Nov. 19; tickets are $200 each.)


Since its debut in 1977, the CARTI Auxiliary Festival of Trees has evolved from an affair measured in hours into an Arkansas holiday tradition marked by days. It has raised in excess of $6.5 million for CARTI and the cancer patients of Arkansas.


For a complete schedule of Festival events and/or ticket availability, contact the Festival of Trees office at 501.660.7612 or visit CARTI.com.


CARTI is a not-for-profit, multi-disciplinary cancer care provider offering medical and surgical oncology, diagnostic radiology and radiation oncology at locations throughout the state to provide convenient access for cancer patients. Chemotherapy is offered in Little Rock, North Little Rock, Benton, Clinton, Conway, El Dorado, Heber Springs, Russellville and Stuttgart. Radiation therapy is offered in Little Rock, North Little Rock, Conway, Mountain Home and Searcy.


The CARTI Foundation was incorporated in 1983 as a non-profit organization to assist CARTI in meeting the current and future needs of Arkansas cancer patients and their families.


For more information, visit CARTI.com.