28 Feb 2023

Caring across continents

The pursuit of medicine by two married physicians spanned two continents before ending in Conway.

Sohaib Rana, MD, and Rimsha Hasan, MD, both graduated from the Jinnah Medical and Dental College in Karachi, Pakistan. After they began a friendship as a part of a five-year study group during medical training, their bond eventually led to marriage.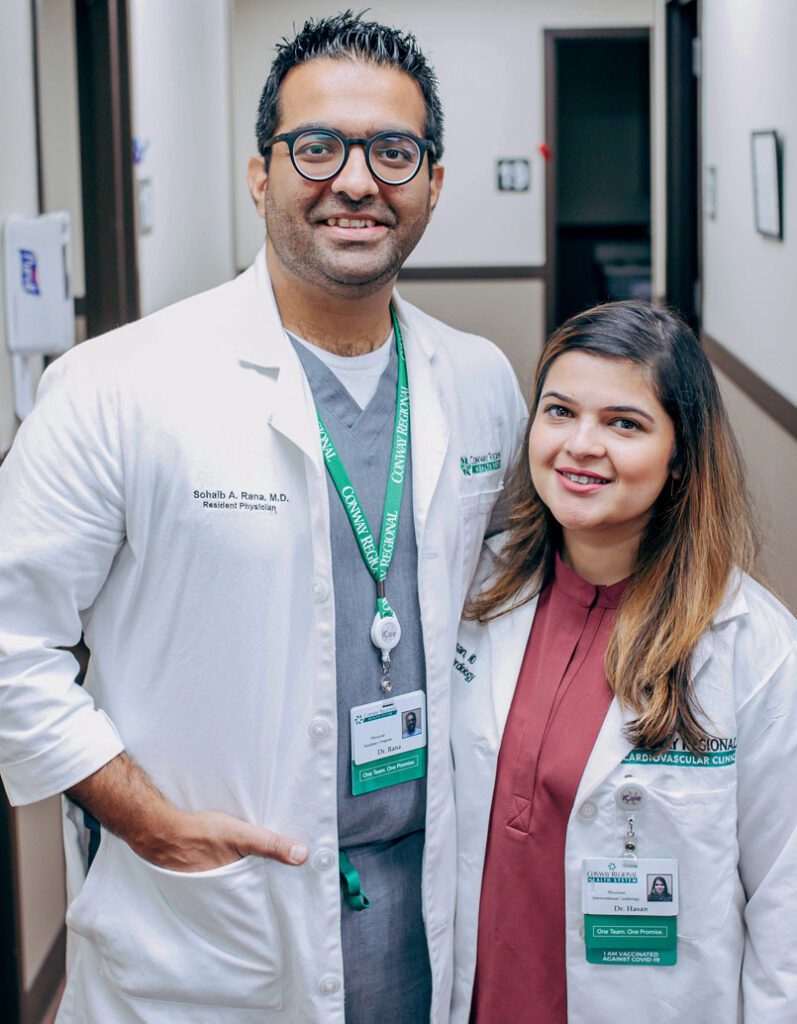 Hasan had a strong inclination toward cardiology, which led her to pursue training in the United States. After completing training at the University of Arkansas for Medical Sciences in cardiology, followed by interventional cardiology, Hasan joined the Conway Regional Cardiovascular Clinic as an interventional cardiologist in July 2020.
Rana left his surgical training in Karachi to relocate to the United States, where he finished his United States Medical Licensing Examination and was matched into the Conway Regional Graduate Medical Education Internal Medicine program as a resident physician in 2022.
More than 7,700 miles from their families in Pakistan, Sohaib Rana and Rimsha Hasan have found the support they need for their medical careers while raising three young children. "The Conway Regional community is an extended family," said Hasan. "Your work environment can make or break it because that's where you spend most of your time. It's intense at times because there is often another life at stake." As an interventional cardiologist, Hasan diagnoses and treats cardiovascular disease and structural heart and vascular conditions through catheter-based procedures, such as angioplasty and stenting.
Their support system received an early test. Shortly after the family's move to Conway in December 2021, Rana's father became gravely ill. "We had a situation. Everything was in boxes. I stayed with our three children; he had to fly to Pakistan because his father was in the ICU. It was a very dramatic time in our lives." Rana was also interviewing with residency programs in Central Arkansas, and Hasan was about to begin a shift of being on-call for 24 hours at Conway Regional.
The clinic staff banded together with administrative support to make sure the children and Hasan were supported. "It kept us afloat," she said. "I don't have enough good things to say about my colleagues. They have been super helpful. It was intense, but I never felt I couldn't call on anyone."
After experiencing the support his family received, Rana was convinced he wanted to begin his residency in Conway. His first day of residence with the Conway Regional Graduate Medical Education internal medicine program was in July of 2022.
Early impressions have been positive for Rana. "Our program director (Greg Kendrick, MD) is amazing, as well as the other hospitalists that we round with," said Rana. "The most interesting part of being a resident is the learning," he said. "You learn something new every day."
He is grateful for his fellow residents. "The camaraderie among the residents is something that I enjoy. Everybody wants to be here," Rana added.