16 Feb 2022

Calvin, Lady Devil Dogs primed for postseason run

By Levi Gilbert

The Morrilton Lady Devil Dogs finished the regular season 18-5 and second place in the 4A-4 conference. The second-place finish earned the Lady Devil Dogs a first-round bye in this week's 4A-4 district tournament and an automatic bid to next week's 4A North regional tournament.

With postseason play afoot, senior forward Amira Calvin remains a source of constant encouragement for the Lady Devil Dogs.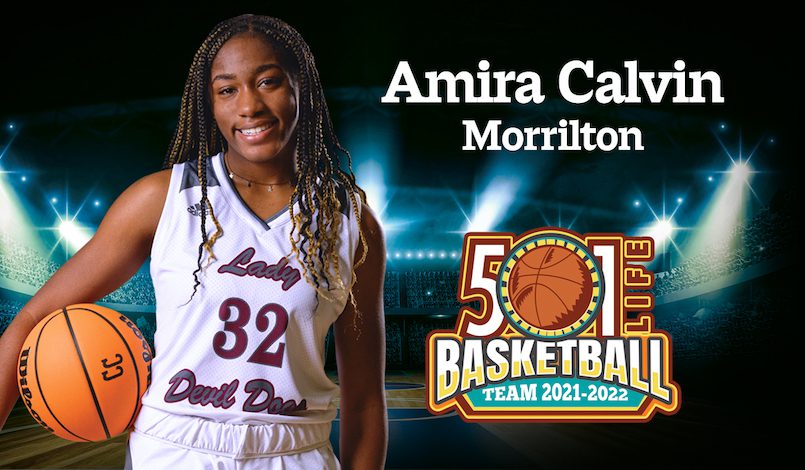 "Amira is a great teammate on and off the court," Morrilton Head Coach Carin McNabb said. "She plays hard and does her best daily. She's a super sweet kid that everyone likes. She makes people laugh and smile with her great personality. Selfless and humble."
The Lady Devil Dogs finished in the 4A state semifinals a year ago. Calving contributed as a scout team player on last year's squad.
"She was a great scout team player and gave energy all during our games," McNabb said. "My expectation for Amira this year is that she is ready to give it her all when she is called upon to do so."
Calvin was selected to this year's 501 Basketball Team — 40 players representing the best the 501 has to offer both on and off the court. The team is sponsored by Velda Luders of Coldwell Banker RPM Group, Moix Equipment and Toy Company, Conway Regional Health System and First Security Bank. She was nominated by McNabb.
With the goal of making a return trip to the state tournament within reach, Calvin is focused on soaking in every last moment of her senior season on a basketball court.
"I'm cherishing every moment because you never know when it's about to be over," Calvin said. "Our team goal is to win district and regionals and then state. I'm trying to get better with each and every practice and game. I want be remembered as that teammate who was a nice person who had a great attitude. [I'm thankful to the] Lady Devil Dog basketball program for making me everything I am."
Calvin also plays soccer for the Lady Devil Dogs. After graduation, she plans to attend Central Arkansas and eventually the University of Arkansas for Medical Sciences in pursuit of a radiology degree.
Whether it's on the court or in the classroom, Calvin is ready to lend a helping hand to her teammates or her classmates.
"She helps her teammates and classmates anytime she can," McNabb said. "She helps our players with learning plays or homework or whatever they might need help with."
Morrilton takes on Dardanelle in the 4A-4 district tournament semifinals in Subiaco at 7 p.m. Thursday, Feb. 17.

Latest posts by Levi GIlbert
(see all)