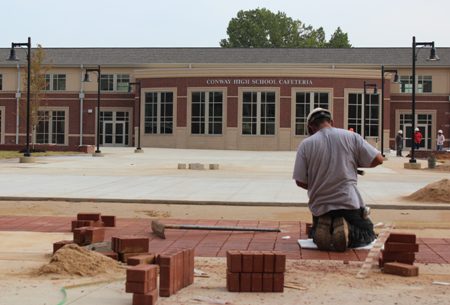 12 Aug 2013

Cafeteria, courtyard nearing completion at Conway High

Posted at 3:19 PMh

in

News

by Sonja J. Keith

Conway teachers and staff got a sneak peek at the new high school cafeteria today during the ninth annual Teacher Breakfast and Education Fair.

The event – hosted by the Conway Area Chamber of Commerce – was presented by Conway Corporation. With 120 vendors participating, it is the biggest teacher fair to date.


Completion is planned before students return for the fall semester on Monday, Aug. 19.


According to school district superintendent Dr. Greg Murry, the cafeteria project has not only been on schedule but also under budget. "We are excited about the completion of Phase Two of our CHS construction project," said Murry. Phase One involved construction of the new high school, which was completed last summer.


"The cafeteria will provide much needed space for lunch as well as after-school activities," he said. "The entire CHS project will be something all members of the Wampus Cats Nation can be proud of."


Crews were busy Monday working on the finishing touches of the Wampus Cat Courtyard which connects the new cafeteria with the main high school building.
Dedication of the courtyard was scheduled to take place immediately after the education fair. The courtyard features the inaugural set of personalized pavers purchased by the Conway Public Schools Foundation for its "Honor the Past, Build a Foundation" fundraising campaign to support teacher grants.

For $100, a personalized brick is placed in the courtyard. The second set of bricks will be installed next summer. Bricks can be ordered online at cpsfoundation.com.

Funds from the foundation's brick campaign and other contributions go into an endowment at the Arkansas Community Foundation, which generates net income for teacher grants, leaving the principal preserved as a perpetual source of funding.

Teacher grants support classroom and school grants, tutoring and enrichment, classroom supplies, and teacher development and recognition. These programs and supplies cannot be funded through the regular budget, and teachers quite often fund these needs themselves.
"We are excited about the addition of the Wampus Cat Courtyard at Conway High School. The courtyard offers a unique way to honor the past and build a foundation for the future," said foundation board member Aaron Knight. "Alumni and friends can leave a lasting mark on campus while helping support the Conway Public Schools Foundation endowment, which funds completive teacher grants."