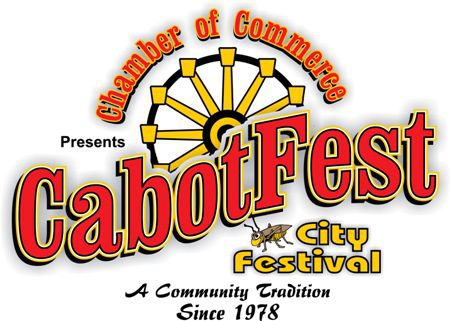 06 Oct

CabotFest on Saturday

The 36th annual CabotFest – a hometown celebration – is planned 9 a.m. to 7 p.m. Saturday, Oct. 11, in downtown.


CabotFest began in 1978 as a small gathering to help lift the spirits of citizens after a tornado struck the town, killed several citizens and did severe damage to the little city. Today, CabotFest is a family-style festival that brings thousands to the City of Cabot for a day of family fun, food, shopping, bingo, kid games and a variety of entertainment that features many hometown entertainers.


The festival is sponsored by the Cabot Chamber of Commerce. The popular event has grown tremendously through the years and is now known as one of the state's premier festivals.

The Cabot Chamber continues to sponsor the much anticipated event that annually brings thousands to the downtown streets of Cabot to enjoy a day of fun, food and entertainment for the entire family.


Significant time and effort goes into putting on an event of this magnitude. The 2014 CabotFest Committee is under the direction of Damon Bivins, business development director for the Cabot region (Jacksonville, Cabot, Beebe, Searcy and Heber Springs) for Centennial Bank.


Committee members, comprised of members of the Cabot Chamber of Commerce, spend hours of their time to plan, manage and direct CabotFest. Each year, the committee has a strong desire to make CabotFest the best event ever.


This year, a variety of Central Arkansas entertainers will provide entertainment throughout the day. The Main Stage will feature events throughout the day starting with dance/gymnastics from 10 a.m. until 2:30 p.m. Starting at 3 p.m., The Blend will perform with Matt Dame following. At 7 p.m., the headliner Anthem Lights will perform.


For the first time, there will be a petting zoo, not to mention numerous vendor booths, a kids zone featuring giant inflatables, a wide variety of food booths, bingo, a large carnival, a classic car show, a 5K Run, Lions Club Pancake Breakfast, mobile pet adoption and cricket spitting.


For more information, contact the Cabot Chamber of Commerce at 501.843.2136.