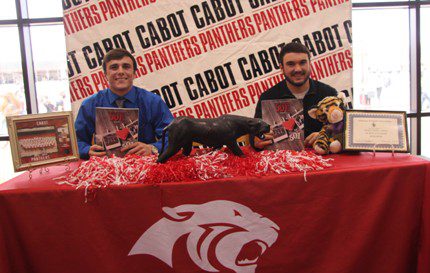 18 Feb 2015

Cabot players sign to play college football

Friends and family recently packed Cabot High School on National Signing Day to watch two seniors sign with Arkansas colleges.

In front of a big crowd, Tristan Bulice signed to play football for Ouachita Baptist University. The Cabot senior nose guard was recently named "Defensive Player of the Year," by the 2014 Three Rivers Edition All-Area Football Team.


Bulice's longtime teammate, Jake Ferguson, also signed. Ferguson, who was named to the 2014 edition of the 501 Football Team, will play football for Southern Arkansas University. He plans to major in special education and become a coach.