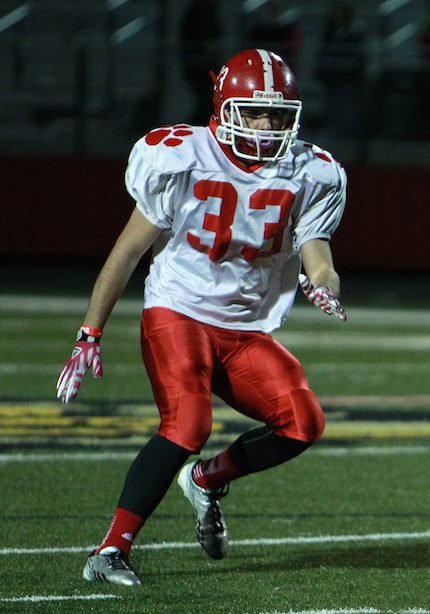 12 Aug

Cabot: Panthers 'in the hunt' as 7A contender

Conference: 7A/6A East
Coach: Mike Malham
'13 Record: 12-1 (7-0)

It was a year to remember for the Cabot Panthers. After a 10-0 regular season, the Panthers fought their way all the way to War Memorial, including a double overtime win over North Little Rock in the semi-finals. Cabot came up just short in the 7A final against Bentonville, but overall, as Coach Mike Malham says, it was "a pretty good year!"

Returning starters include Wyatt Talik (offensive guard), Curtis Crowder (offensive tackle), Tristan Bulice (noseguard), Brian Marshall (defensive end), Logan Melder (defensive back), Holdyn Barnes (defensive back), Jack Wisker (linebacker) and Jacob Ferguson (wide receiver/defensive back).


"We expect more great things from Jacob this year," Malham said. "Jacob has had two great years. He had 109 tackles and seven interceptions as a sophomore and 89 tackles and five interceptions last year as a junior. He also caught 20 passes for 354 yards and six touchdowns."
Other expected starters include Jarrod Barnes at quarterback; Jalen Hemhill, Jason Shrunk and Jess Reed at running back; Colton Eads at fullback; Brett Frazier at tight end; Justin Hagar, Ton Palacios, Peyton Glisson, Pat Helmstadler and Joe Thompson on the offensive line; Austin Jones, Colin Thompson and Alex Rodriguez on the defensive line; Easton Seidle at linebacker; and Dylan Smith at defensive back.
"With six starters back on defense, I hope that we will be strong there from the get-go," Malham said. "Losing eight starters on offense, we may show some growing pains. North Little Rock will be the front runner [in our conference]. Jonesboro and Little Rock Central should also be in the mix. Hopefully Cabot will also be in the hunt."