15 Nov

Cabot native is music director for Reynolds Hall musical on Nov. 30

By Becky Bell

Mark Binns, a native of Cabot, is the music director for "An Officer and a Gentleman," which will be performed at Reynolds Performance Hall at the University of Central Arkansas at 7:30 p.m. on Nov. 30. It is based on the Oscar-winning film starring Richard Gere and features the Grammy Award winning #1 hit single "Up Where We Belong," and a score of 80's hits. 
The music director is the son of Diane Page of Cabot, and the late Phil Binns of Crossett. Binns was taught to love music and the piano by his parents. His mother was a piano teacher and a church pianist, and his father loved music and enjoyed singing in the church choir.
"There was always music playing in the house … everything from classical to gospel to jazz to rock," Binns said. "My mom especially instilled in me an appreciation of all genres of music. And naturally, she began to give me piano lessons at the age of six. She had already been teaching my older sister for a couple of years, and my younger sister began playing a few years later. Needless to say, the sounds of music were inescapable around our house."
Once he began high school, he enrolled in UCA's Community School of Music, where he began studying weekly with Dr. Carl Anthony, the principal keyboardist of the Arkansas Symphony Orchestra. He continued piano studies at a collegiate level.
After college, despite having much musical training, he was not sure what path was calling his name. Then he was asked to play at a fundraiser for the Arkansas Repertory Theatre. That led to more invitations to play the keyboard at their productions and that's when he said the theatre bug bit him. Binns had the opportunity to work under some amazing freelance musical directors and he got to go to New York and other areas.
"I thought to myself for the first time, wow I could make a career out of this," he said.
And that is what he has done. From his first big opportunity to join the national "Motown: The Musical," to "West Side Story," to "Hairspray," to "Sweeny Todd," and "Rent," Binns has had an incredible career in musical theatre.
Now Binns said he is happy to be working on the music of "An Officer and a Gentleman." He said Dan Lipton, music arranger, has breathed completely new life into well-known songs of the 80s.
"It is filled with some incredible pop/rock hits from the 80s," he said. "You can't create a musical of one of the most beloved romantic movies of the 80s without filling it with some killer 80s tunes. So that's exactly what the creative minds behind the show have done."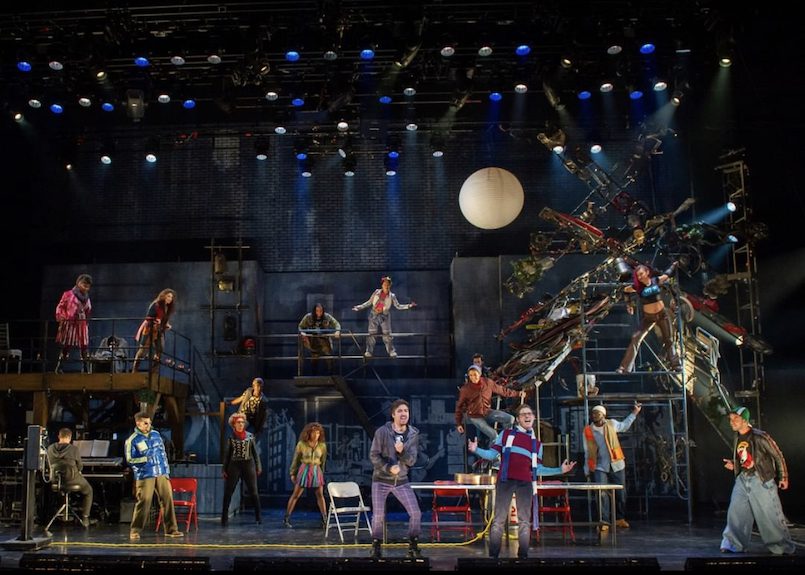 Binns said the audience will get the songs they know and love, but they will take on a whole new meaning when they are used to propel the action and emotions of the story along. And yes, for those wondering, "Up Where We Belong" is in the show. The Grammy and Oscar-winning #1 hit is by Joe Cocker and Jennifer Warnes.
Binns' desire to work on the show was multifaceted. He said it was written and directed by one of the great Broadway writers of today, Dick Scanlan, whose work he loves.
"There is a real authentic humanity about it, and he has assembled a creative team of some of the most brilliant minds around," Binns said. "So, when I was offered the chance to work on it essentially from the ground up, I jumped on it. I am thrilled to be the musical director of a world premiere national tour, and I truly believe it will enjoy a long life."
One particularly exciting part about this musical coming through the 501 is that people who know Binns and may not be able to travel to New York to see his other shows can drive over to Conway for this Broadway musical. He said his mother will be there with bells on.
"You can imagine how proud my mom is," he said. "She's my original piano teacher and the sole reason I do what I do. I cannot wait to bring the show to my home state. This is the first tour I've worked on that is coming through Arkansas."
For more information about tickets for the show which is based on the Oscar-winning film, go to uca.edu or call the box office at 501.450.3265.