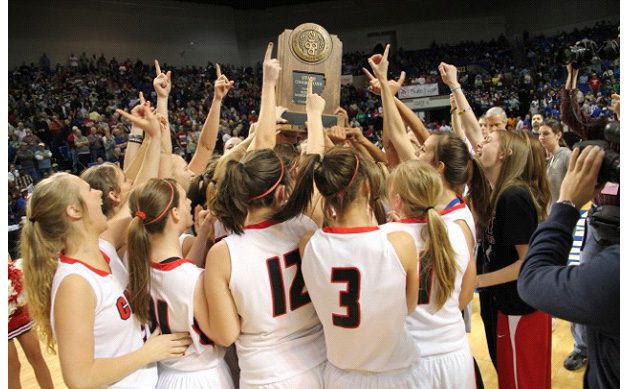 02 May

Cabot girls celebrate championship season

by Donna Lampkin Stephens


The first state basketball championship in the history of Cabot's Lady Panther program capped what was, for all practical purposes, a perfect season.

Carla Crowder's ninth Lady Panther squad finished 25-7, beating Fort Smith Northside in the Class 7A state championship game at the Hot Springs Summit Arena, 51-41. Six seniors went out winners: Melissa Wolff, the 6-foot-1 Arkansas signee named MVP of the title game after a 22-point, 15-rebound performance; Laci Boyett, who will play next year for Williams Baptist; Shauna Mertins; Sydney Wacker; Micah Odom and Sarah Fowler. Two more — Maddie Stalnaker and Jessie Grunwald — were invaluable as managers, Crowder said.


The state tournament was played at Cabot's new gym, which opened in December. The Lady Panthers, who had won the 7A-Central conference, beat Springdale Har-Ber, 71-49; and Little Rock Hall, 57-55; before moving on to the state final at Hot Springs against Northside.


"It's a great facility, but it's not about the facility; it's about the people," said Steve Roberts, Cabot athletic director. "What makes us so proud is the way they went about winning the state championship and the type of people we've got on the team and on the staff. They are wonderful role models and great ambassadors for our school."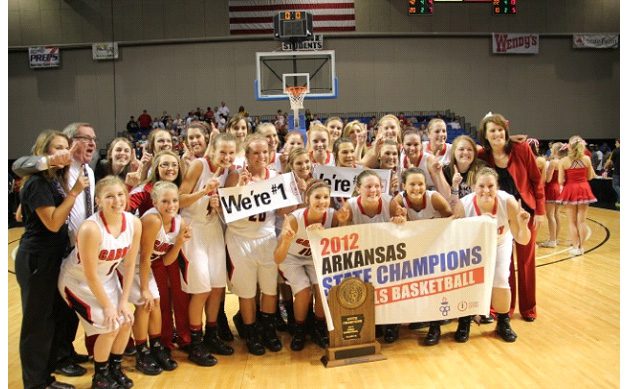 The title was the fourth state championship of Crowder's career, the others coming at Bryant in 1988, '89 and '91. She took Lady Hornet teams to the state finals three more times. After moving to Cabot, she took her first Lady Panther team to the state championship game in 2004.

"It had been so long, this one was nice," said Crowder, who finished her 31st season coaching Arkansas high school girls basketball. "I didn't know if we'd ever get back. This was a fun group to work with, a unique group of kids. We won because they were so unselfish. They worked together, worked hard all spring and summer to get to the point where we were. They got better all year."

The Lady Panthers went out of state for a tournament over the Christmas holidays, and Crowder said the level of competition made her team better.

"I don't think they realized how good they were until midseason," she said. "Then we talked about the goals we'd set and how you have that opportunity, and you should take advantage of every opportunity you have."

She said being able to host the state tournament made the experience even more special.

"Our crowds were just amazing," she said. "Our fans are just terrific. They were so supportive all year long."

She said all those seniors were heading off to college with their majors in mind.

"They are all very goal-oriented, very focused," she said. "They've got good parents who are hard-working people who teach them how to do things right. It's a unique group of young ladies."

But having graduated six seniors, she and the Lady Panthers are already working on the rebuilding project.

"Our kids here, their wonderful parents, the administration — athletic director, principal, superintendent — they make it easy for us to be successful," she said.

With 31 years down, she said she thought she was good for four or five more.

"Maybe more," she said. "Who knows?"